PCOS, Type 2 Diabetes, Lichen Scleroses, Scaring Alopecia, Eczema Part 4
by LenaMarie
(Seattle, WA)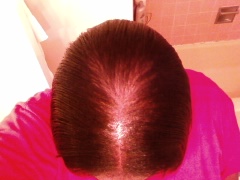 Back In Feb of 2007
(This is Part 4 of a story continued from part three of LenaMarie's story).

I have always had slightly high blood pressure but now they want in lower because of the diabetes.

So now I have:
High Blood Pressure (128/88)
High Cholesterol
Type 2 Diabetes
PCOS
Alopecia (Female Pattern Baldness & Scaring)
Eczema
43% Body Fat
Lichen Scleroses

The good news is 3 months after working out all of my lab work went down.

Blood pressure back to normal, Cholesterol in normal range (But my good cholesterol not high enough, and they want my bad cholesterol to be lower than 100 and it was 121), Diabetes was an 11.6 A1C and now 7.9.

I didn't lose any weight though but it was because I wasn't eating right. I was also a lot stronger then before with more endurance.

My GYN said she would put me on Clomid now to help us get pregnant. The other blood work was ok too, but I was told my vitamin D was really low (14).

I haven't had a yeast infection for months now. My doctor thought it was because of all the pills they were trying to get me to take but I told her she might be mad but I wasn't taking ANY of them.

After like 4 months of working with my trainer he got a very good job offer doing something else completely. I tried to work with different people but it wasn't the same so I stopped going to the gym :(. I went back to eating crazy and everything.

During the holidays I wasn't eating right but I was less stress because I think I wasn't having any problems with my private area. I wasn't even thinking of getting pregnant or nothing.

Now it Jan of 2010 and I find out my period is late or just not coming at all. I went to the doc for an x-ray and had to give a urine sample....I can't believe it IM PREGNANT :).

I started taking all my meds including insulin to keep my sugar low. I did everything I was supposed to including another A1C...it was 8.5 or something like that.

It still hurts to talk about so I will just say I lost the baby in Feb when I went to make sure it was just 1 (it could have been more because I was taking Clomid).

On my next OB/GYN visit I was told my baby had no heart beat and I was not going to keep the baby. The one good thing is I didn't have to have a DNC the baby came out on its own on 2/19/10.

I have never stressed so hard about anything in my whole life.

My hair is coming out more and more, my period did not come in March, blood pressure is so high, I'm depressed, and diabetes is out of control again.

This is my cry out for help...I want to try and go as natural as possible and get my life back.

I just really feel there are not good doctors in the Puget Sound Area of Washington State that understand. My question is do you know of any doctors here who can help me?

I know this is long but I feel better just getting some of this off my chest and thank you for having this here for people like myself.

Please Help Thanks

~~~~~~~~~~~~~~~~~~

Editor's comments: You were on the right track and were getting good results. You can do it again!

The loss of an unborn baby is a sad, big loss. All you can do now is prepare yourself for the next one.
If you are healthy, your chances of a successful pregnancy next time will be much greater. But it's important to build up your health BEFORE conception.

I would strongly advise you to put yourself under the care of a licensed naturopathic physician. There are plenty of them in the Seattle area. They are very good at helping patients manage chronic disorders such as the ones you have. They also will spend much more time with you and dig deep to identify the causes of your problems and then offer detailed solutions.

You can find a naturopath here: www.naturopathic.org.

I would suggest that you get your vitamin D levels back into the middle of the normal range before attempting another pregnancy.

You have your whole life ahead of you, with much potential.

Find a naturopathic physician, find a new personal trainer, set some personal goals and you will be back on the right track.