PCOS Is a Family Affair
If you have polycystic ovarian syndrome, then it's likely your entire family also has an increased risk of developing chronic disease.  Everyone may be affected, including your daughter, son, sister, mother and father.
---
---
You may already know that you have an increased risk of developing cardiovascular disease and diabetes. But did you know that if you have PCOS, your immediate family is also at increased risk?

This disturbing finding has been verified by a number of medical studies. Most recently, a study from Kirikkale University in Turkey showed that 40% of mothers and 52% of fathers of polycystic ovarian syndrome women had some degree of glucose intolerance. Glucose intolerance is simply the inability to properly metabolize blood sugar (glucose). Advanced glucose intolerance results in diabetes. Parents of PCOS women higher levels of insulin resistance than parents of other women.

A previous study showed that parents of PCOS women had a higher incidence of insulin resistance and diabetes.

Another study, from the Brigham and Women's Hospital in Boston, evaluated the sisters of women with polycystic ovary syndrome. These sisters were more obese and had more indications of insulin resistance than sisters of women without this disease.

We recommend that you communicate with your parents and siblings about reducing everyone's risk of developing cardiovascular disease and diabetes. The best way for the whole family to reduce risk is to eat a much healthier diet, exercise more, and reduce chronic stress. Family members should support each other in their efforts to get healthier and avoid the disability and heartache of chronic disease.

Your Brother Is at Risk

As you may know, polycystic ovary syndrome is partly an inherited disorder. That is, certain families have a genetic predisposition toward this disorder. Part of this predisposition is an increased likelihood of developing a condition call "insulin resistance", which is thought by some clinicians to be a primary cause of polycystic ovary syndrome.

However, this inherited problem is not restricted to women and girls. Males are also affected, according to research just released by the University of Sherbrook in Canada.

The study showed that brothers of women with polycystic ovarian syndrome also had increased insulin resistance and other metabolic problems similar to the women.

This disorder is a family affair that is not restricted to females. If you have a brother, you might have a conversation with him about the possibility that each of you has a similar health challenge.

Mothers of PCOS Daughters Have Heart Risk

Are you the mother of a daughter who has polycystic ovarian syndrome?  You may or may not have been diagnosed with it yourself.  But just because most of the research focuses on younger women, that does not mean that you also have some health issues to work on.

We came across an interesting study that was just released from Virginia Commonwealth University. 308 women with polycystic ovary syndrome were interviewed about their mothers' medical history. Their mothers were also interviewed (if available) to determine whether they also had this disease, and also had a cardiovascular "event" such as a heart attack.

The researchers concluded: "PCOS-affected mothers of women with PCOS have a higher risk for cardiovascular events in comparison with non-PCOS mothers, and cardiovascular events appear to occur at an earlier than expected age in mothers with PCOS."

That is, if you (the mother) had polycystic ovary syndrome or major symptoms of it, you are in a somewhat higher risk category for cardiovascular problems. Menopause is not a protection because most of the mothers in this study were post-menopausal.

PCOS and its effects do not simply "disappear" because you are older.

We appreciate your concern about your daughter's health. Just don't forget to take good care of yourself too!

Eat a healthy diet. Remove sources of stress from your life. Get lots of exercise. Enjoy life.

Your Father Has Increased Heart Risk
Fathers of daughters with polycystic ovarian syndrome have an increased risk of developing cardiovascular disease, according to new research from Penn State University College of Medicine.

A survey of 410 families showed that fathers had a higher incidence of heart attack and stroke than fathers in the general population.

In this study, mothers did not show an increased risk.

So if you're a mother, it's especially important that you look after the health of your spouse and your son.

If you're a daughter, be aware that your brother and father have an increased risk of developing heart disease or a metabolic disorder such as diabetes. Perhaps you can encourage them to improve their health practices.

The entire family needs to focus on a higher quality diet, increased exercise and reduction of chronic stress. Polycystic ovary syndrome is not just your problem. It is a problem for everyone in the family. Do what you can to help your family get healthier and prevent future disease.

Sources:
Yilmaz, M et al, Glucose intolerance, insulin resistance and cardiovascular risk factors in first degree relatives of women with polycystic ovary syndrome, Hum Reprod. 2005 Sep;20(9):2414-20
Legro, RS et al, Insulin resistance in the sisters of women with polycystic ovary syndrome: association with hyperandrogenemia rather than menstrual irregularity, J Clin Endocrinol Metab. 2002 May;87(5):2128-33
Sir-Petermann, T et al, Prevalence of Type II diabetes mellitus and insulin resistance in parents of women with polycystic ovary syndrome, Diabetologia. 2002 Jul;45(7):959-64
Sam, S et al, Dyslipidemia and metabolic syndrome in the sisters of women with polycystic ovary syndrome, J Clin Endocrinol Metab. 2005 Aug;90(8):4797-802
Baillargeon JP et al, Brothers of women with polycystic ovary syndrome are characterised by impaired glucose tolerance, reduced insulin sensitivity and related metabolic defects, Diabetologia. 2007 Sep 27; [Epub ahead of print]
Taylor MC et al, Evidence for increased cardiovascular events in the fathers but not mothers of women with polycystic ovary syndrome, Hum Reprod. 2011 Apr 19. [Epub ahead of print]

Related Articles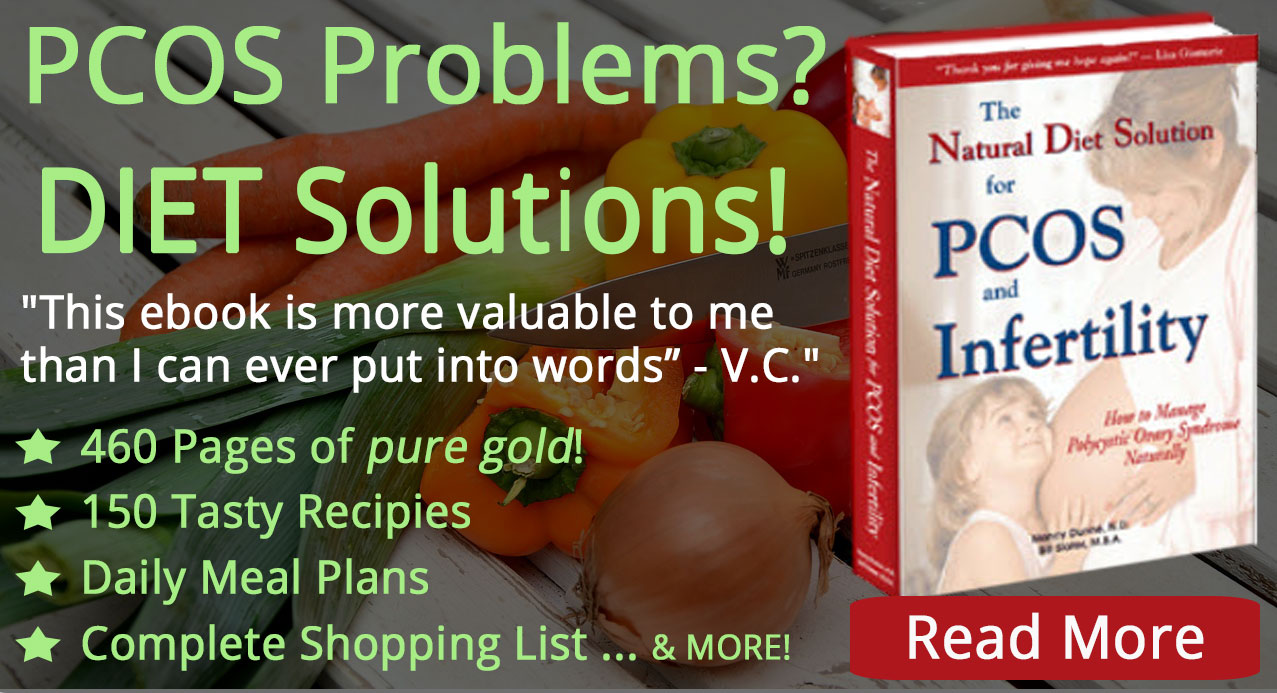 E-Books to Help You Manage PCOS