PCOS, Insulin Resistance & Epilepsy!!
by stephanie
(Lansing MI, USA)
I have read everyone's stories and now I'm in tears!!! I'm so happy for all of you :)

Your stories have inspired me to TAKE ACTION!!!

I was diagnosed with epilepsy when I was 10 years old, I am now 27 and I have (knock on wood) only have had 3 seizures in my life.

I have been on a medication since I was 10 to control my seizures called depakote. The only time I had a seizure is when I was weaned off the meds because the Dr. thought I may have outgrown it.

Still on the depakote, I found out in 2008 that I have PCOS & am Insulin Resistant.

At the time I guess I didn't take the matter very seriously because I was in denial but I also didn't want to have to be on 2 other meds either... I am now married and my husband and I want to have a baby.

Now I know I need to take action and switch my epilepsy meds because it is a terrible drug to be on while you're pregnant. It can cause birth defects and there are links to this medication to PCOS.

I have just been so afraid to switch the meds because I know they work but I want a baby and I will do whatever it takes including getting healthy because I know that weight and your diet is a huge part of this problem.

I have truly been inspired by you all. THANK YOU!!!

Stephanie

~~~~~~~~~~~~~~~~~

Editor's comments: Hi Stephanie, no matter what your past was, you can still create your future.

Learn and implement good health practices. Yes, it takes focus and persistence but the results will be worth it!

A good way to counter insulin resistance is to consume a low glycemic load diet.

Join in and write your own page! It's easy to do. How? Simply click here to return to PCOS Success Story.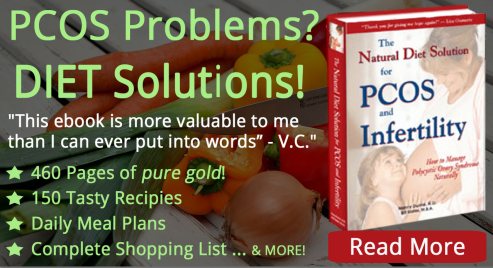 E-Books to Help You Manage PCOS