PCOS HELP!! Weight gain, Hair problems
by carrie-anne
(ottawa ontario)
Hi my name is Carrie-Anne. I am a mom of one I am 22 years old. I never had problems with periods until about a year after having my son. I have gained 50 pounds after having him, then the irregular periods started.

I am experiencing hair loss and hair growth on my face it is horrible. I have not went to a doctor because they will just give me a bunch of pills and I don't want that. I was wondering if any women on this website cured there pcos by just losing weight and has their hair grown back? Here is my e mail [email protected]

~~~~~~~~~~~~~~~~~~~~~~

Editor's comments: There's no question that losing fat weight will improve the balance of your hormones. The hair growth is coming from too much dihydrotestosterone (DHT), which is the active form of the male hormone testosterone. Possibly, the testosterone production is encouraged because you may have a problem with insulin efficiency.

You can do much to control all this with a much healthier diet consisting of whole foods, and by increasing your exercise.

You can also discourage production of DHT with supplements such as saw palmetto, which you can purchase here.

Go here to learn more about hair loss and hirsutism.







Join in and write your own page! It's easy to do. How? Simply click here to return to PCOS Success Story.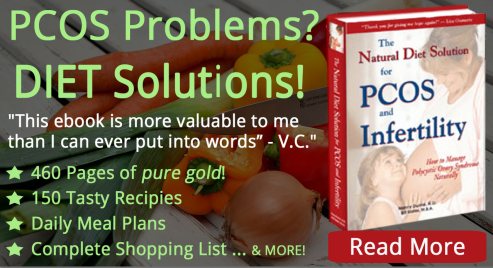 E-Books to Help You Manage PCOS