Lifestyle Changes for PCOS Gave Me Regular Periods
by Sarah-Jane
Hello, my name is Sarah-Jane. I was told I had PCOS on New Year's Eve, 2005, due to having no periods and my hair falling out.

I had gone up 2 dress sizes and was covered in acne! Our whole world came to a standstill.

I have a very good gynecologist who gave me a good medical exam and tests, which were not nice, but had to be done! I was put on a 6 month course of Clomid. Every month I ovulated on only 50 mgs., which was great, but I did not get pregnant!

After that, we were told IVF was our only chance of getting pregnant!

So I decided to take matters into my own hands. I started a low glycemic index diet, took supplements like zinc etc , and joined the gym.

Within 6 weeks I had dropped a dress size and had my first confirmed ovulation. YES!!

No pregnancy as of yet, but I've had regular periods ever since.

I am listening to my body to know what's going on, when.

I am determined to be a Mum, and I'm the only one who can change my lifestyle!

Good luck to all! :0)

~~~~~~~~~~~~~~~~~~~~~~~~~~

Editor's comments: Congrats, Sarah-Jane! When you take matters into your own hands, you get better results.

No one, not even your doctor, cares as much about your health as you do. No one but you knows at a deep intuitive level what is going on in your body.

As you have discovered, pharmaceuticals and IVF are not the only paths forward toward starting a family.

A low-glycemic index diet is a good idea. An even better idea is a low-glycemic load diet. A lot of people are not aware of the distinction between "glycemic index" and "glycemic load".

By the way, we discussed the benefits of a low-glycemic diet for women with PCOS in one of our recent newsletters.

Join in and write your own page! It's easy to do. How? Simply click here to return to PCOS Success Story.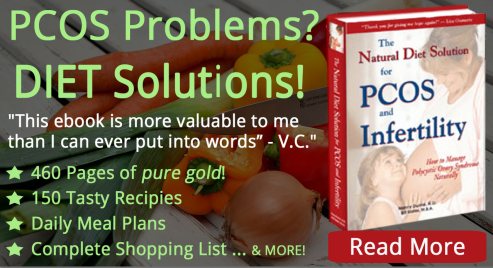 E-Books to Help You Manage PCOS