Have PCOS, Frustrated with Metformin, Clomid
by Cassie
(Illinois)
My name is Cassie. I am 24 years old and have been trying to conceive for a year and a half.

I was diagnosed with PCOS about 6 months ago.

After several tests, I took the metformin for 3 months with hopes that I would spontaneously ovulate. No such luck.

Last month I started my first round of Clomid 50 mg. I had two pos. at home ovulation tests so I was SUPER excited.

On day 21 I went for my progest. test. Sadly, I had actually not ovulated. I had false pos. on the at home tests.

I am getting ready to start my second round of clomid.

I can't imagine my life without a child, so I am praying that this works for me!

I hope to have a success story soon. This whole situation as been very emotional, but I am trying to stay optomistic!

Good luck to everybody else trying! :)

~~~~~~~~~~~~~~~~~~~~~~

Editor's comments: Good luck, Cassie!

Clomid is effective in inducing ovulation in some women, but certainly not all. Neither Clomid nor metformin are magic silver bullets that solve your fertility problems. Moreover, they have undesirable side effects.

Overuse of Clomid can increase your risks of developing uterine or breast cancer later on.

We suggest that every woman carefully review all possible options and fully understand the benefits and risks of the option that is chosen.

Another option to consider is improving your diet and lifestyle. What you eat and drink has a profound effect on your hormones.

You might find some useful information on these web pages: Infertility and How to Get Pregnant and PCOS and Infertility: How to Get Pregnant Naturally.
Join in and write your own page! It's easy to do. How? Simply click here to return to PCOS Success Story.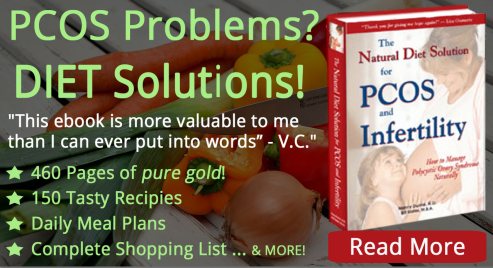 E-Books to Help You Manage PCOS