Grateful Mountain Biker
by Amber
I just wanted to thank you for all your research, newsletters and book. I suffered from PCOS for over 10 years, with symptoms including excessive rapid weight gain, excessive hirsutism, depression and no periods. I eventually reached a weight of 89 kgs. (196 lbs.) even though I didn't eat a lot.

Sadly, many doctors don't seem to be very well informed about PCOS. When I was initially diagnosed, I was told that the only thing I could do was take the pill to induce my periods.

Anyway, after reading your newsletters, I decided to adopt a "life-style" based approach to manage my condition.

I'm delighted to report that after 18 months of adhering to a consistent exercise regime (both cardio and weight training) and a sensible low Glycemic Index diet, I have now lost over 26 kgs. (57 lbs.).

I have also experienced a significant reduction in body hair, and my periods have completely returned to normal. Many people no longer recognize me -- I look so healthy!!

I can't begin to tell you how good it is to feel "normal" again and can't thank you enough for all the information you have provided.

Learning about my condition has not only saved my life, it has made life worth living again. At age 35, I am now a keen mountain biker and loving every second! Thanks again.

Join in and write your own page! It's easy to do. How? Simply click here to return to PCOS Success Story.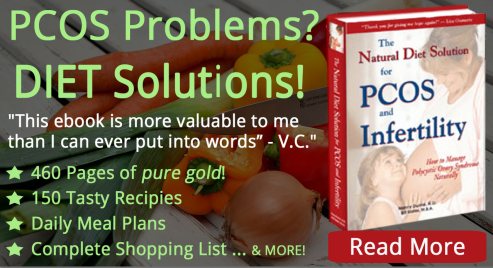 E-Books to Help You Manage PCOS