A Different Kind of Success
by Mandy
My name is Mandy and I am 23. 9-11 was a full day for the nation, and for me, it was double. You see, not only was the nation turned upside down, so was my life. On 9-11-2001, I was diagnosed with PCOS.

My doctor and I had been trying to figure out why I had gained 75 pounds in five months and completely stopped having my cycles.

After a year of different tests and being poked by needles, my doctor figured it out by chance. You see, my doctor was a family practitioner and had no idea what PCOS was. He was invited by a colleague to come to a convention for Obgyn and there they discussed PCOS. My doctor asked questions and then came back and diagnosed me properly.

I have tried many things including metformin and birth control.

My husband and I decided after seeing our sister and brother-in-law's struggle with infertility treatments that we would not pursue them.

We decided to go off all drugs and take a natural approach. We are now trying progesterone cream and other natural supplements.

My success is a little different then others. We have a two year old son named Triston. He is the greatest joy in our lives, and the best part is, he is adopted.

We still hope for a biological child but are completely happy with our adopted son. Also, our sister and brother-in-law also adopted their son a month later.

So I would just like women with PCOS to think for a moment about how their child could be waiting for them, but just in another way. God bless you all with you struggles.

#############

Ed. Note: Click here to read more about progesterone cream.

Click here to read about various conventional treatments for infertility and natural treatments for infertility and tips on how to become pregnant.

Join in and write your own page! It's easy to do. How? Simply click here to return to PCOS Success Story.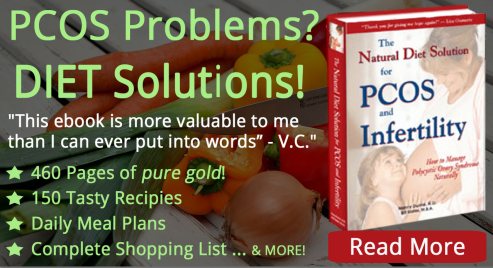 E-Books to Help You Manage PCOS