Weight Loss with PCOS Diet Helped My Symptoms
by Maria
(UK)
I was diagnosed with PCOS in 2001 after coming off the pill (which I thought was the cause of my weight gain) and not having a period for over two years.

Since then I have had one ovary removed and have been told that my remaining ovary is too badly damaged by the condition, and also having endometriosis, to be able to conceive.

My success, however, has come from the weight that I have managed to lose using the "Natural Diet Solutions" book. I've gone from a size 20 to a 14 (UK size) and getting slimmer!

I have also been put on metformin as diabetes runs in both sides of my family.

Other improvements:
Acne - has just about gone completely (flares up once a month!).
Periods - I have had regular periods for the past two years.
Hirsutism - has gradually reduced and become less noticeable.
Emotions - I am a lot more in control of my emotions - a lot less tearful and feel that I am now in control of my life.

Thank you so much for the PCOS book and for this website. It has been a godsend to me!

Join in and write your own page! It's easy to do. How? Simply click here to return to Reader Feedback.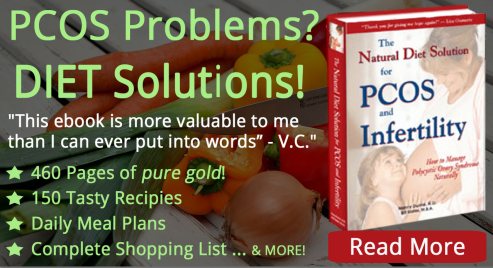 E-Books to Help You Manage PCOS