weight gain in pcos
by abinayaa
(india)
I'm a girl, unmarried, and having PCOS. My body weight is 63kgs which is more for my height which is 144cm.

I'm on treatment with metformin 500mg od for past one month.

And I'm also having hypothyroidism and on treatment with eltroxin 200mcg for past 5 years. I need to reduce my weight.

I have done many things to reduce weight but never succeeded. pls help me..

~~~~~~~~~~~~~~~~~~~~~~~~~~~~

Editor's comments: Have your thyroid function carefully assessed by your doctor. Make certain that you are taking the appropriate dosage of thyroid replacement therapy.

Metformin is for treating insulin resistance. It is used primarily for treating people with diabetes although it is also used for treating insulin resistance in women who have PCOS.

One month is not much time to let metformin help you with insulin resistance. Insulin resistance leads to fat retention.

Beyond medications, the best way to lose weight is to both change your diet AND get much more exercise.

In your diet, consume much less refined grain products. You might even try not eating any foods at all that contain grains such as wheat. Eat more vegetables, a lot more. Have some protein at each meal. Fish is an excellent protein food and also has essential oils that you need. Avoid all refined, processed foods. Avoid all soft drinks.

If you can make these dietary changes and get more exercise for at least six months, you should begin to see some favorable results. The key thing is to be absolutely persistent for at least six months.

Join in and write your own page! It's easy to do. How? Simply click here to return to PCOS Success Story.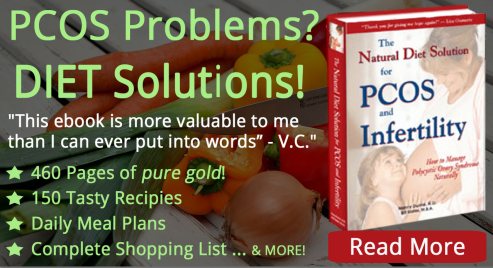 E-Books to Help You Manage PCOS