TTC for over 3 Years, Finally Got Pregnant
I had been trying to conceive for over 3 years. I had been starting to gain about 10 pounds per month and nothing would help diet or exercise.

I went to my doctor due to nothing was happening, he tried one cycle of Clomid and referred me out to a fertility specialist due to my hormones did not even budge on the cycle he had gave me.

We waited about a month seen the specialist and he put me on Glucophage 3 per day at 500 mg. I am now on 1500mg of Glucophage a day.

We waited another month before we could do the fertility treatments. I am about 5' 5" and about 230. During the first month I had dropped more than 15 lbs. Then I go back and do a one pill round of Clomid, nothing happen that month either, then the next cycle tried two pills along with the Glucophage, I ovulated and got pregnant.

I stayed on the Glucophage due to miscarriage rates and stuff.

A year after starting fertility treatment I gave birth to a baby girl.

I was breastfeeding so I had to stay off the Glucophage, but once I stopped breastfeeding I started the Glucophage again and as of today I am down to 155 lbs, I never thought getting pregnant would have cured my obesity problem.

#####################

Editor's comments:

Congratulations on such a large amount of weight loss!

As a side note, pregnancy is not known to cure obesity problems. If anything, the majority of women end up a little heavier after having a child.

The reason you were given Glucophage (metformin) is to reduce insulin resistance, which is a root cause of being overweight and is associated with the difficulty in losing weight.

Weight loss for overweight women with PCOS, even as little as 5%-10%, can make them fertile. The healthiest way to lose weight is to eat a low glycemic load diet and get regular exercise. We have a lot to say about this in our book.

Join in and write your own page! It's easy to do. How? Simply click here to return to PCOS Success Story.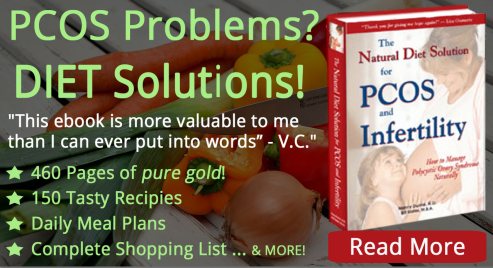 E-Books to Help You Manage PCOS