Trying for Baby Number Two while Struggling with PCOS
by Natasha Marie
(Temperance, MI)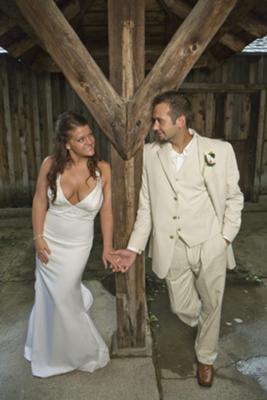 Our Wedding Day
I was diagnosed with PCOS by my PCP when I was 14 years old after having 1 period in December when I was 13 and then my second period a year and a week later when I was 14.

When I was 15 years old I went to see my midwife who was very informative. I was told that it could be hard for me to conceive and that I may not be able to conceive.

She also educated me on different options to control PCOS including a low carb and low fat diet, exercise, and pharmacological interventions such as Metformin and oral contraceptives.

I am now 25 years old, I have not been the most compliant patient when it has come to the Metformin because it makes me so sick!

For years I was also not good with exercising routinely and the low carb diet never happened! Although I weigh a lot I am not that overweight and to look at me you would think I easily weigh 20 lbs less than I do.

For years I was not trying to conceive so PCOS didn't affect my life that much so I didn't worry about doing everything just right.

In January 2009 I started eating properly and exercising consistently in preparation for my July 2009 wedding.

I went from 184lbs to 163lbs (I'm 5'5") and I looked amazing, but strangely I was exhausted during our whole honeymoon.

I had my first natural period in years 2 weeks before the wedding.

Three weeks after the wedding I found out I was pregnant!

I was so blessed to conceive without even "trying" (thank goodness for wanting to fit into a very form fitted dress)!

My Midwife from when I was 15 delivered my perfect baby boy March 29, 2010 and it meant for much to have her there!

As soon as I was able to have sex again we started trying to conceive again.

Mason is almost 6 months old now and I have only had 1 period which was due to birth control. I have not ovulated once which is so depressing.

I am trying so hard to maintain a low carb diet and I have started Metformin (2 pills a day so far).

I gained 49 lbs with my pregnancy and have lost 20 so far. I now weigh 182 lbs and I feel like I'm back where I started a year and a half ago.

I truly believe I won't conceive until I lose the remaining 19 lbs which is very stressful and somewhat depressing!

It was so hard to lose the weight the first time, I'm not sure I have the determination to do it again.

Time to start jogging again I guess!

~~~~~~~~~~~~~~~~~~~~~

Editor's comments: Hi Natasha Marie, thanks for sharing your wonderful photos!

You're probably correct in surmising that if you lose more weight, you will start to ovulate. The medical research indicates this is likely. Even a 5% - 10% loss in weight may be sufficient.

So….hold the vision of a new addition to your family in mind and take the difficult but bold steps to get back down to your prior weight.

As you know, exercise is so very important. Only by exercising your muscles can you burn off the accumulated fat. Fat is burned in the muscle cells.

Get a baby stroller suitable for fast walking. Take little Mason for some brisk walks when the weather is good. You'll also want to do other resistance and cardio exercises.

I don't know whether you might have a progesterone deficiency, which could cause the lack of ovulation. In this case, consider taking vitex (chaste tree berry), which helps the body to product progesterone.

I also strongly recommend you get a vitamin D test since a vitamin D deficiency is quite common and can impair ovulation. Ask your doctor for a vitamin D test. If you can get your vitamin D levels to the mid-range of optimal, you improve your ability to ovulate and become pregnant.

You mention a "low carb" diet. There is more to losing weight and restoring hormonal balance than just reducing your carbs. You also want to improve the QUALITY of your carbs, such as fresh vegetables. This issue is discussed in great detail in The Natural Diet Solution for PCOS and Infertility ebook. The TYPE of carbs you consume is a crucial key to successful weight loss, not just the number of carb calories.

Losing weight is very difficult. Every woman who has PCOS knows that.

But it's not impossible! Others have persisted and been successful. So can you!

Since metformin makes you sick, you can instead accomplish pretty much the same thing with improved diet, increased exercise, and selected supplements such as d-pinitol formula. Medical research has shown that the right diet plus regular exercise can be as effective as metformin.

Be consistent and persistent. Keep the vision of a new family member constantly in your mind. Imagine how happy Mason will be to have a playmate, etc. Use your vision of what is possible to propel you forward regardless of the obstacles.