This PCOS book is my bible
by Laura Crozier
(Wilmington, DE, USA)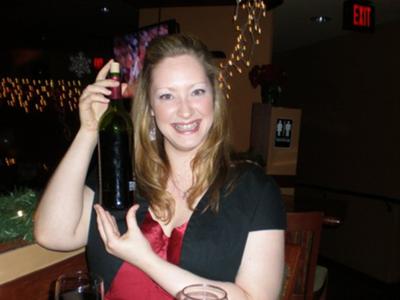 Me ringing in the new year 2010!
My name is Laura and I'm 31 years old. I was diagnosed with PCOS at the age of 21 - just out of college - but had been suffering since my early teenage years without knowing.

When I started showing major physical signs of my PCOS (on top of the constant weight gain which had been going on for years), such as acne I'd never had before, hirsutism, and missed periods, my mother blamed me almost daily for doing this to myself.

I was already depressed about my condition and not knowing what was wrong with me, which was intensified by my mother's blame. I really had no idea what to do.

I have posted some success updates on this site before and now want to share a truly huge milestone for myself with all of you.

I'm not married or trying to get pregnant at this stage in my life, but hope to have the confidence to find a life partner once I reach my goal weight.

I began the diet in this book on January 5, 2009.

Today (January 4, 2010) marks the end of my first year following this new way of eating - this new way of life.

I have, to date, lost 49 lbs and hope to reach 50 lbs of weight lost by my weigh in tomorrow. I probably have another 50 to lose, but am okay with that.

The changes I've seen in myself have been tremendous losing this first 49. I had grown to hate myself so much that I refused to be in pictures, stopped going out with friends, gave up on dating, and just sat at home eating.

When I found out about my PCOS 10 years ago, I tried everything, or so I thought. I just listened to the doctors, took all the meds they prescribed (which made me feel sick), hired a personal trainer who had no clue about my condition - and still nothing worked.

The blame continued, and with each failed "diet," I'd relapse into eating more sugar, more carbs and paying more and more for gym memberships I didn't use. Who wants to be a huge fat girl at a gym full of thin, toned people? I was so embarrassed by who I had become.

This book and this diet changed my life.

It was hard to read. I remember calling my mom in tears many times telling her about all the horrible things that could happen to me if I didn't get it together and start losing weight.

But the sad tears were quickly replaced by happy ones when I'd step on the scale to discover I was consistently losing weight every week. Maybe it was 3 lbs one week, and the next week it was 1. Either way, it was happening for me. It IS happening for me. My journey is not over, but I'm on my way to being healthier and happier.

I now go out with my girlfriends and relish in their compliments that I look great, that they can really see the difference in my body, in my personality and in my mood.

I am in pictures again, which thrills me since I had missed being in so many of my niece as a baby. I don't want her to remember her one aunt as the fat one. I want her and my nephew to remember me as thin, active and glowing.

And I also want my own children some day. This new way of life has given me hope that I will have that someday - that I will no longer be too down on myself to know I deserve a great man in my life to have a family with.

I am so much more outgoing now. I have found my old self from so long ago - and God, I missed her.

I look like a different person now. I don't look like someone stuffed inside sausage casing who's skin is about to burst from being too fat.

I started this diet weighing 258 lbs. Today I weigh 209 lbs. I would like to be around 160 for good - maybe even less! So I have a ways to go still, but I'm in this for the long haul.

My thinking around food is different. I crave salads and fish and a nice hot cup of tea on a cold day instead of mac and cheese, donuts and a diet pepsi.

I can paint my own toenails without being out of breath from bending over my own knee.

I bounce up stairs now, when before, it was a chore.

I do my hair nicely now and take pride in how I'm dressed. Before, I wore anything to cover myself up. I love this girl I've found!

Life is good. It's going to get even better.

I hope everyone reading this buys this book and gets down to it immediately.

It has changed my life. In fact, it has saved my life.

One day I hope to post on here about my wedding and my babies. Until then - you can do it too! I wish you all the luck in the world!

~~~~~~~~~~~~~~

Editor's comments. Laura, your story brings tears to my eyes. We are all overjoyed at your success. It makes all of our hard work so worthwhile to us -- the writing, printing and distributing of the book -- and maintaining this website -- and putting out our newsletter.

We strongly believe that every woman with PCOS can get her life back. We really believe so. So you can imagine our excitement when we receive a story like yours.

B-

Click here to find out about the PCOS book Laura is referring to.