Thin PCOS- pregnant in 3 months of ttc
I am 28 yrs old thin woman, 120lbs for 5'5. I was diagnosed with PCOS at the age of 22 yrs when my periods became more frequent and I got facial and body hair.

I did also have very small multiple cysts on my ovaries.

I was prescribed Birth control pill for around a year.

My main concern then was getting rid of facial hair. They did show some improvement but I wasn't very satisfied with results.

Then I met an Endocrinologist who gave me a mild form of BCP and Aldactone.

That definitely worked better for my facial hair.

Whenever I left these meds, I used to see my periods getting irregular again.

Then after marriage I started BCP again and that alone controlled my hair growth to a manageable level and of course periods also came regularly. I did not feel the need of any other meds.

I left my BCP after a year just to see how I was doing without them. I wasn't trying to conceive then.

My periods remained regular only for 3 months and then became more frequent again.

Then I started researching on how to control PCOS symptoms on your own.

I read about having Low glycemic index food, eating more number of smaller meals, exercising regularly, yoga etc. I followed most of it for a month and did see an improvement.

My period that month came in 26 days instead of 21 days its last month!

I became positive about these lifestyle changes and made them a routine. But I also started BCPs again, as I was not trying to conceive and they keep hormones balanced and avoid any problems from developing.

I started multivitamins and fish oil capsules too.

After another year, my husband and I started ttc. I really wanted to get pregnant in first few months as I knew my periods remain regular initially after stopping BCP.

And by God's grace, I did conceive in 3rd month :) We also used Pre seed lubricant in that month. Hope this helps!! Good luck to all with PCOS!

Join in and write your own page! It's easy to do. How? Simply click here to return to PCOS Success Story.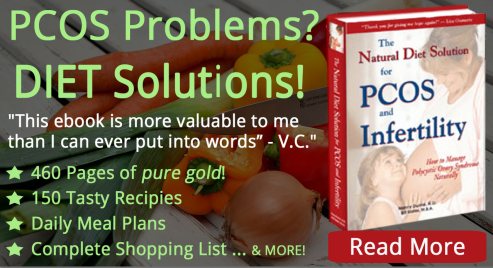 E-Books to Help You Manage PCOS