The Less Stress the Better for PCOS
by Taryn
The Less Stress the Better for PCOS

Hi. I am 28 and I was diagnosed with PCOS in November 2005 after having had very heavy, painful, 2 week long periods since I was 9. My husband and I had been trying to conceive on our own for the last 7 years.

Anyway, after taking time out and relaxing by going to Europe on holiday, I came back and saw an IVF doctor who put me on hormone injections and did an egg retrieval and embryo transfer, which wasn't successful.

Anyway, long story short, I stopped stressing about falling pregnant which was soooo hard to do.

I then went on a low glycemic index diet.

Next thing you know, in 5 months I was pregnant, and then gave birth to my beautiful son, Oscar!

I know it's hard but keep your chin up. The less stress the better. You'll get there and good luck!

~~~~~~~~~~~~~~~~~~~~

Editor's comments: Chronic stress is the "hidden enemy" of women who are dealing with PCOS.

Not only does chronic stress worsen the symptoms of polycystic ovarian syndrome, it also reduces your fertility.

For example, some women who don't menstruate have higher cortisol levels than menstruating women. Cortisol is a stress hormone that interferes with progesterone. Since cortisol and progesterone compete for common receptors in the cells, cortisol impairs progesterone activity, setting the stage for estrogen dominance and subsequent menstrual cycle irregularities. Progesterone insufficiency and estrogen dominance are characteristics of PCOS women and contribute to infertility.

Click here for more information about stress and PCOS.

The Natural Diet Solution for PCOS and Infertility ebook describes a diet that is a low glycemic index diet.



Join in and write your own page! It's easy to do. How? Simply click here to return to PCOS Success Story.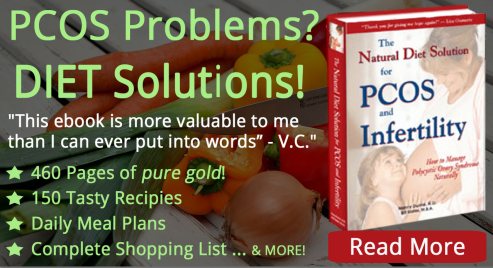 E-Books to Help You Manage PCOS