Taking glucophage......SCARED!
by Michelle
(Only, Tn)
My fiancé and I have been ttc now for about a year. He previously has to kids with his ex.

At first my Ob. had me on 50 mg. of Clomid but it did nothing, then we tried 100 mg, but again another failed cycle. I didn't ovulate on either doses.

I wanted the next step so i found a new Ob. and now i am on Glucophage 500 mg. I started taking it yesterday 7/8/08....and then next week i go up a dose to 1000 mg a day until i then reach a steady dose of 1500 mg.

I am so scared that i won't ever have kids. Even though i am young in college i have so much love and not enough people willing to take it.

I just pray that i can ovulate normally and have menses normally. I haven't had a normal mens. in almost 4 years. The only time i ever had a normal one was when i was taking provera to start one.

Does anyone have any suggestions? Have you taken glucophage before yourself? PLEASE PLEASE let me know!!!!

##############

Ed. Note. First of all, free yourself from the self-limiting belief that pharmaceuticals will solve your health problems. They won't.

Metformin may help you to ovulate. But it also has side effects.

A combination of increased exercise, diet modifications and selected supplements should be just as effective as metformin, and a whole lot healthier! We discuss all this in our book:
The Natural Diet Solution for PCOS and Infertility.

The purpose of metformin is to reduce insulin resistance, which is a primary cause of PCOS and infertility. In addition to diet and exercise, there are some supplements that help to reduce insulin resistance.
Join in and write your own page! It's easy to do. How? Simply click here to return to PCOS Success Story.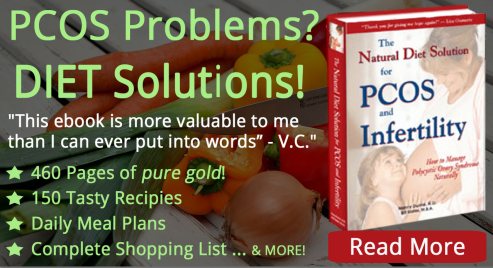 E-Books to Help You Manage PCOS