Successful Long Term Management of PCOS - My Story
by Anon
(Canada)
Dx with PCOS at 18. I was highly athletic, muscular, tall and slim....also pretty hairy with bad skin. Was told at the time I would most likely have problems conceiving but was not told why or what I could do about it, so I did not give it a further thought. I was also unaware of the connection between PCOS and my bad skin, hirsutism etc.

Had first laparoscopy and cysts removed at age 25. Then weight started to fluctuate very dramatically. Met husband at age 28 .....went off all animal products and slowly saw PCOS and endometriosis improve via ultrasound. Discovered from a new OB/GYN about the connection between PCOS and hyperinsulinemia and after metformin, 20lbs of weight loss. Finally successfully conceived at age 34, miscarried once and then successfully conceived 2nd baby at age 39.

Now I stick to a calorie-controlled all non-processed diet, high in Omega 3's. Use saw palmetto to control androgen excess and use melatonin for insomnia during PMS week. Also use "Relora" for mopping up excess cortisol during PMS week. Have been able to manage Extreme Moods, PMS symptoms, weight gain and insomnia using these methods as well as 30 mins. of aerobic exercise 4 times/wk plus resistance training once/week.

Definitely a syndrome to be managed for life. But once I got in the routine it is now a way of life. Am grateful for the knowledge. PCOS makes me feel so physically and emotionally rotten when I am overweight. This is a huge motivator for me to always be fit. I'm now 41 with a healthy BMI, with normal insulin levels.

Join in and write your own page! It's easy to do. How? Simply click here to return to PCOS Success Story.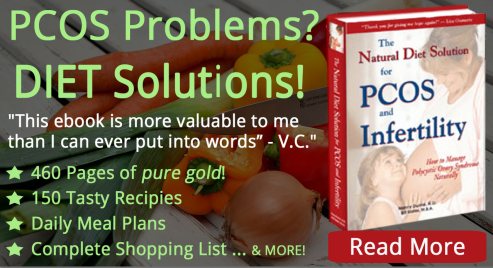 E-Books to Help You Manage PCOS