success!!!!!
by Bec
(Australia)
My husband and I were trying to have a baby since I was 19.

I was initially told by doctors I was too young to have a child and come back when I was older. From age 17 I went from regular periods to getting them once a year.

I went through the public system for years without any success. I changed to private care and was finally diagnosed with PCOS at age 27.

We didn't have private health cover so that's the reason we went public at first, but Medicare covered a large proportion and we didn't even reach the $1100 threshold.

I was put on provera and had ovary stimulation. I had an early miscarriage and then two months later I fell pregnant again. I gave birth to my son three months ago.

The birth was complicated and we both ended up in special care but at long last we have our baby.

We are now trying to conceive our second baby.

~~~~~~~~~~~~~~~~~

Editor's comments: Congratulations, Bec!

For those of you struggling with infertility or wanting to become pregnant, this web page has some relevant information:
Infertility, PCOS and How to Get Pregnant

Join in and write your own page! It's easy to do. How? Simply click here to return to PCOS Success Story.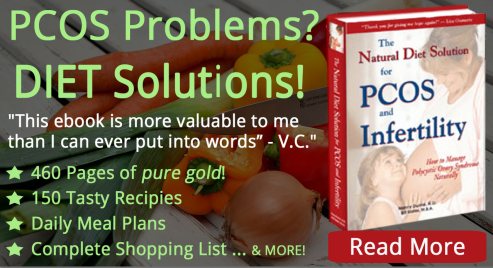 E-Books to Help You Manage PCOS