Success!!! Can I take Vitex and D-pinitol at the same time?
by Sarah
(Brooklyn (NY))
Hello!!! My name is Sarah I am 28. I have been on this diet for 6 months to be exact, I have restored my periods and feel great!

The 7th month came and no period and negative P-test.....

I had cramps but nothing yet! It was due 6/12 or so we are 8/5... it did bring me down... but I won't let it happen.

I feel like I need another supplement!

Can I take Vitex and D-pinitol @ the same time?

Please let me know and I do thank you for ALL your help!

~~~~~~~~~~~~~~~~~~~~~~

Editor's comments: Congratulations on your progress so far!

Yes, you can take vitex or d-pinitol at the same time. The vitex should help the body to produce progesterone. If you have issues with insulin resistance, the d-pinitol should be especially helpful. Some studies indicate that the inositol (found in d-pinitol) helps to improve ovulation. Many women with PCOS need additional vitamin D. The d-pinitol formula contains vitamin D.

PS: The diet Sarah is referring to can be found in The Natural Diet Solution for PCOS and Infertility.

Join in and write your own page! It's easy to do. How? Simply click here to return to PCOS Success Story.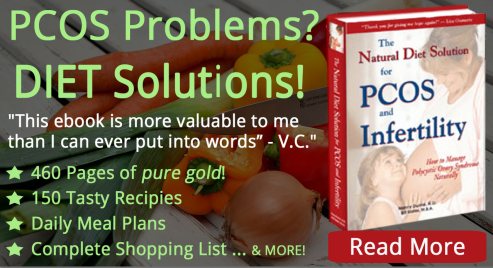 E-Books to Help You Manage PCOS