Pregnant in Spite of PCOS
by Jennifer
These stories are great! They are what kept me going when I thought there was no hope. Here is my story.

I had my first menstrual period when I was 11 years old. From then on my periods were never regular. I was also having problems with acne and hair growth. My weight was fine, but I was always very active.

Of course the first course of action was to put me on birth control pills. Around 19 years old I started having some ovary pain. An ultrasound and blood test confirmed that I had PCOS.

In a way I felt fortunate to know ahead of time that when the time came for children I could possibly have some trouble. Plus I finally knew what the problem was.

At the age of 23 my husband and I started trying for children. We tried for about 6 months on our own with no success.

We then went to see a fertility specialist. I first went on Clomid for 3 months (no success). Then we tried Clomid with ultrasound monitoring and HCG injections (no success).

Next step was to add IUI to the mix. We were now at 6 months of fertility treatments (still no success).

I continued to exercise, and spoke with a nutritionist just to make sure I was eating as healthy as I could.

We then moved on to Follistim (FSH) injections combined with ultrasound monitoring, HCG injection, Metformin, and IUI (FINALLY SUCCESS!!!!).

I am now 16 weeks pregnant. My husband and I could not be more happy.

By the last cycle of treatments I had little to no hope and was almost out of insurance money. Guess sometimes things just get worse before they get better, but it was all worth it.

We are praying for a happy healthy baby, and wishing all of you success in your PCOS journey.
Jennifer

###############################

Editor's comments:

Congratulations on your pregnancy!

Assisted reproduction is successful in many cases. In some cases, it isn't.

In general, we suggest assisted reproduction be utilized "after" you have done the following:
1) Get rid of refined carbohydrates and "convenience foods" from your diet. And adopt a diet along the lines of what recommend in our pcos diet book.
2) Start exercising every single day or at least 5 days a week.
3) If you are insulin resistance or have a weight issue or can't ovulate, take selected nutritional supplements to help your hormones get back into balance. A couple of examples are vitex and d-pinitol.
4) If you're overweight, lose at least 5% of your weight. The weight loss should be fat, not muscle loss. Exercise and healthy diet make this possible.
5) If the above measures don't work, then you can add assisted reproduction into the mix.




Join in and write your own page! It's easy to do. How? Simply click here to return to PCOS Success Story.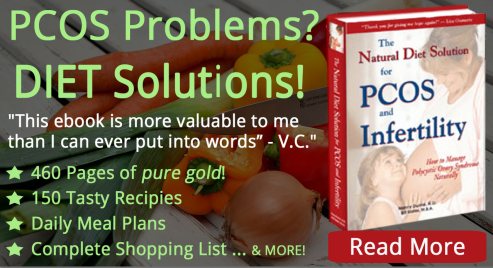 E-Books to Help You Manage PCOS