Polycystic Ovary
by Annie Rose
Hi, I'm Annie Rose Tupaz, 27 years old.

I have a polycystic ovary, my ob gyn advised me to have an ultrasound, and the result was I produced more than 12 eggs in one month, and she advised me to take metformin once a day before I sleep.

I started drinking metformin last may 2010. I'm hoping and praying to be pregnant, until now I'm not pregnant. What should I do? What is the best thing to do to cure my polycystic ovary and to get me pregnant? Please help me.... thanks and god bless.

~~~~~~~~~~~~~~~~~~~~

Editor's comments: If you improve your diet, the cysts may diminish.

A recent study from the Institute of Research Pharmacology in Italy analyzed the diet over a ten-year span of 225 women with benign ovarian cysts and 450 women who did not have ovarian cysts.

The researchers discovered that the type of food eaten influenced the development of cysts.

For example, they said that women who consumed the most beef and cheese developed the most ovarian cysts.

In contrast, consumption of green vegetables provided a strong protective effect.

This study makes it clear that what you eat will influence whether or not you develop ovarian cysts.

A suggested diet that is likely to reduce ovarian cysts is contained in this e-book.

The drug metformin is for a condition called "insulin resistance". The diet in this ebook is effective for reducing insulin resistance.
Join in and write your own page! It's easy to do. How? Simply click here to return to PCOS Success Story.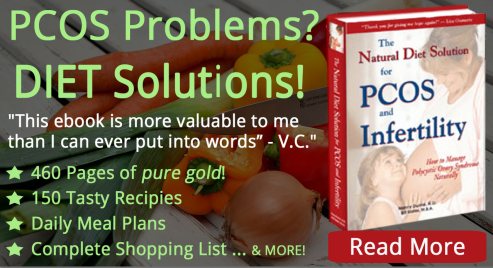 E-Books to Help You Manage PCOS