Please help me with PCOS, I'm sorry this isn't a success story

(Crystal)
Hello, my name is Crystal. I'm 19 years old.

I'm not sure that I can ever remember starting my period. When I was 13 I went to see a doctor because of my period issue, it was then I was diagnosed with PCOS.

My doctor put me on birth control but I had horrible side affects like nausea, mood swings like crazy, depression, weight gain. I weighed 120 before bc and after I was 156!! I had to get off of it and I did.

After that experience I was really scared and I didn't care if I ever started my period.

Through those years I was very depressed with all the weight I had gained but I was mostly depressed with the excessive hair.

I have never felt normal. When I was 16 I went on a diet called the HCG diet where I injected a pregnancy hormone and lost 25 pounds in 40 days. I currently weigh 135, still no period.

I'm 19 now and I'm ready to understand PCOS without fear. I want to control PCOS with out taking any prescribed drugs, I want to deal with it naturally.

Please any help would be much appreciated. I'm thankful for this site, I know I'm not alone.

=============================

Editor's comments: Congratulations on being "ready to understand PCOS without fear." That's the first critical step toward solving this problem!!

An excellent resource to help you understand and begin dealing with polycystic ovary syndrome and getting back to a more normal cycle is to read The Natural Diet Solution for PCOS and Infertility.

You can also learn a lot by subscribing to the free newsletter PCOS Health Review. You can find the newsletter archives here.

Join in and write your own page! It's easy to do. How? Simply click here to return to PCOS Success Story.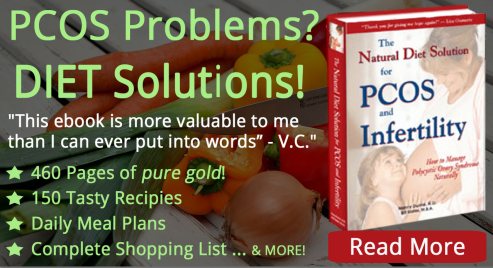 E-Books to Help You Manage PCOS