PCOS...worry less, have more fun
by emily
(kondinin w.a)
Hi, my name is Emily I was told I had PCOS Christmas 06 after going off the pill and not having a period for 4 months.

I was put on metformin and it made me really unwell so I stopped only a month after using it.

I conceived in feb this yr but lost it at 6wks.

I traveled 300kms to see a gyn and all he said was lose 35kgs and come back in 6months...if you don't lose the weight he would staple my stomach...and you guessed it…I'm not going back to see him again.

I believe there is a time and place when everyone will get their chance to have a child. I also believe the less you worry and the more fun you have with life the more good things will happen for you.

I wish all you ladies the best of luck and hope that my goodwill will increase my chances for success.

Good luck and be happy
Emily

Editor's Note:

Emily mentions worrying less. That is very good advice! Worry creates chronic stress, which increases the production of the stress hormone cortisol, which worsens symptoms of PCOS. We discuss this problem in our book and have a whole chapter devoted to stress management.

We can't overemphasize the importance of reducing chronic stress.

Join in and write your own page! It's easy to do. How? Simply click here to return to PCOS Success Story.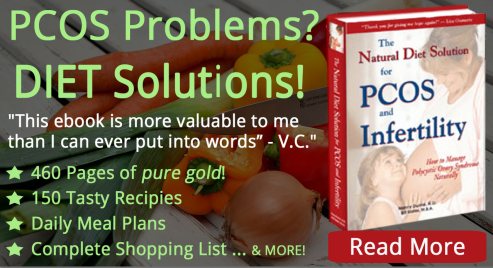 E-Books to Help You Manage PCOS