PCOS solution: stop eating sugar and bread!
I never had regular cycles--would skip 2, 3 months, then have very long periods--I also had some of the other symptoms of PCOS such as hair growth, insulin high/low problems.

This lasted fifteen years.

Last year I stopped eating sugar and carbohydrates entirely and for the past year for the first time in my life I've had completely regular periods (every 30/31 days).

It's like night and day.

I was not overweight and haven't lost any weight on the new diet but I feel so much better.

My diet focuses on fish, nuts and vegetables, with a lot of yogurt and green tea.

No bread, candies, pastries or fruit juice!

I don't miss them. Wanted to let people know.

~~~~~~~~~~~~~~~~~

Editor's comments: Thanks for sharing this! It's amazing what can be accomplished by improving the quality of one's diet.

Fruit juices and especially soft drinks of any kind disrupt liver function and hormone balance.

Refined carbs such as bread, muffins, bagels, pastries, etc., have a devastating effect on most women who have PCOS. Ditto for candies, "energy bars", and other convenience foods.

Much of the physical and emotional suffering associated with PCOS could be eliminated simply by eating a diet as you describe. A diet such as you describe has been validated by numerous medical studies to improve health. And reduce PCOS symptoms too!

A similar dietary approach is described in this pcos diet ebook.
Join in and write your own page! It's easy to do. How? Simply click here to return to PCOS Success Story.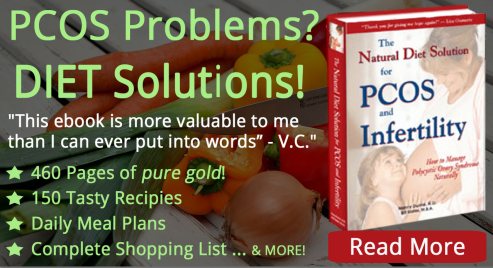 E-Books to Help You Manage PCOS