PCOS, Hard to Lose Weight
by georgina
(doncaster)
Hi my name is Georgina. I was told I have polycystic ovary syndrome in 2009.

I'm taking 4 metformin tablets a day, which is 500mg as me and my husband are trying for a baby.

We already have 2 children but I'm finding it really hard to lose the weight. But I will keep trying and I'm glad to know that there are other people out there so I'm not on my own. Good luck to the ones who trying for a child.

~~~~~~~~~~~~~~~~~

Editor's comments: Hi Georgina, thanks for your comments.

There is some good background info on our PCOS and Weight Loss and How to Lose Weight web pages.

If you're taking metformin for a long time, I suggest you take a B-complex nutritional supplement or a multi-vitamin/mineral formula because metformin can create a vitamin B12 deficiency. You definitely do not want to have a vitamin B12 deficiency when you conceive or during your pregnancy.

Join in and write your own page! It's easy to do. How? Simply click here to return to PCOS Success Story.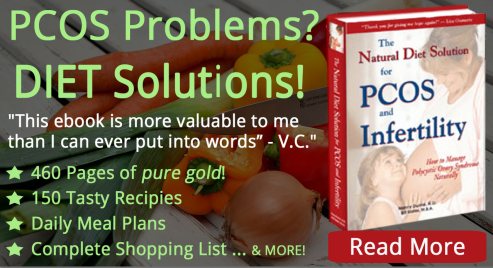 E-Books to Help You Manage PCOS