PCOS Devastation, Determination and Finally Ovulation
by lorrell
(albany,ny)
Ever since I could remember I have had irregular periods.

They would stay on for 6-8 weeks and off for 3 months causing irritation down there and just really uncomfortable.

I went to tons of doctors to find out what was the problem, until finally at the age of 24 at an gyn exam my Dr. casually says to me "you have PCOS"

I had no idea what that meant, I had asked her what is that exactly she just said "another word for...you need to lose weight" so I went home and researched it on the computer and I felt devastated.

My husband and I decided to go to an endocrinologist, Clomid didn't work so we tried a different method with the use of shots inserted into the stomach and finally we were pregnant with twins.

Unfortunately I gave birth at 22 weeks pregnant and lost my son. I have a healthy little girl who will be one year old in October.

~~~~~~~~~~~~~~~~~~~~~

Editor's comments: Even though PCOS is the most common reproductive disorder among women, some doctors still have difficulty in diagnosing this disorder.

Also, doctors can tell you to "lose weight", without quite understanding how difficult that can be.

The trick to losing weight is not just to cut calories. Rather, it is to change the type of foods you consume and change the things you drink. All this is explained in this ebook.

Improved diet and increased exercise can also reduce a condition called "insulin resistance". Reduction of insulin resistance may improve the quality of your eggs and thus reduce the risk of a miscarriage.

Often, 5%-10% weight loss is sufficient to restore natural ovulation so that a woman does not have to resort to "assisted reproduction" therapies.

Join in and write your own page! It's easy to do. How? Simply click here to return to PCOS Success Story.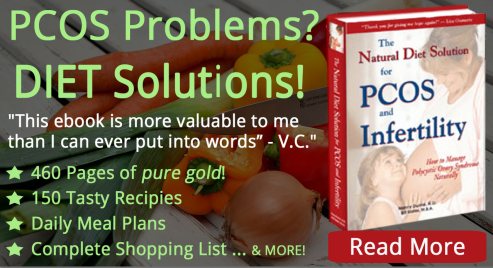 E-Books to Help You Manage PCOS