PCOS and Hyperstimulation
by Jen
(IL)
I was diagnosed with PCOS in 2005 I was 25 years old married and ready for a family, my DR put me on metformin and Clomid through a six to nine month period.

We had two IUIs and no luck with pregnancy.

Since we did not have insurance we could not afford to see a fertility specialist. In 2008 I switched jobs and found out I had they offered fertility insurance through the company.

My husband and I started seeing a specialist in Rockford IL right away.

Because of my PCOS I rarely had periods, they started inducing them with provera, then we started gonal-f shots.

We had two successful IUIs but both resulted in miscarriage. It was a very hard time for us, within the time of finding out we lost the babies I learned from the doctors I had a blood clot issue in which I needed to take baby aspirin (a low dose 81 mg) everyday.

My husband and I (now 29) decided to undergo in vitro fertilization in 2010.

Again they induced my period and started me on Lupron shots and gonal-f. When the timing was right they induced ovulation with a HCG trigger shot.

After that I was scheduled for the egg retrieval. I developed a moderate case of hyperstimulation after ovulation; the dr suggested a 5 day transfer and just one embryo. They transferred one perfect embryo and froze 11 embryos.

I have moderate hyperstimulation due to the fertility drugs and let me tell you it is very uncomfortable.

My belly is very swollen and I constantly feel pain from the fluids built up. I have been on bed rest for a week and also had to have IV fluids to help with dehydration. I started to vomit and experience severe diarrhea.

The dr told us hyperstimulation symptoms can worsen if I became pregnant.

We could have waited to do the transfer after another cycle but my husband and I were very anxious. In one week from today we will find out if we are pregnant. If not we have 11 other embryo's frozen to use in the future.

My suggestion to anyone with PCOS is to be POSITIVE every step of the way and if you have the chance to wait and freeze your embryos, DO IT.

Hyperstimulation is very serious condition and can cause problems to you and your baby.

I am touched by all of your stories and wish the best of luck and lots of baby dust to you all.

No other person will ever know what we are going through or how we feel going through all of this, but remember there are so many other women out there with the same problems, we are not alone!

~~~~~~~~~~~~~~~~~~~~~~~

Editors comments: Assisted reproduction often involves the use of very powerful hormones in order to force your body to act in a certain way. Every hormone treatment has its benefits and risks. Before embarking on any assisted reproduction treatment program, we suggest you ask your doctor questions until you a fully satisfied and feel comfortable moving ahead.

Before seeking out expensive assisted reproduction treatments such as IVF, you might also consider creating your own at-home "assisted reproduction program". There is a substantial body of evidence to show that improvements in your diet and lifestyle can have a profoundly beneficial effect on your hormones and enable you to become fertile. An ebook has been written on this very subject.

In addition to dietary improvements, selected supplementation can be helpful for improving your ability to ovulate and conceive. A few of those supplements are listed here and here.

If your self improvement measures do not give you the results you're looking for, you can always turn to a medical option.




Join in and write your own page! It's easy to do. How? Simply click here to return to PCOS Success Story.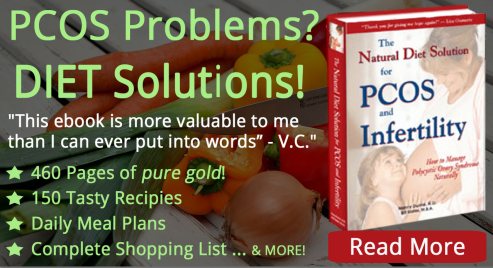 E-Books to Help You Manage PCOS