Overcome PCOS with Supplements

(South Africa)
I was diagnosed with PCOS in January 2010 after not having a period for almost 1 year. My gyne wanted us to try for 1 year naturally to get reduce the PCOS signs and to start my period.

For the past 5 months I have been taking Stamino Gro (Vitamin supplement to improve fertility in men and women) and Inofolic (Myo-Inositol & Folic Acid). I was so surprised last week when I had my period for the first time in 1.5 years!! At least I have a cycle now and can start to try to conceive. Regards, E

~~~~~~~~~~~~~~~~~~~~~

Editor's comments: Sometimes a nutritional deficiency can be corrected with nutritional supplementation, resulting in a change in body biochemistry and metabolism. This change can lead to various health benefits.

Staminogro appears to be a mix of amino acids, vitamins and minerals. This particular mix and dosage of nutrients may result in beneficial results for one person but not another. Each of us is an individual.

Inofolic contains the B-vitamins inositol and folic acid. Both nutrients are helpful for relieving PCOS-related symptoms.

This site carries products that contain many of the same nutrients contained in the above products.

This web page contains links to information pages about nutritional supplements for PCOS.




Join in and write your own page! It's easy to do. How? Simply click here to return to PCOS Success Story.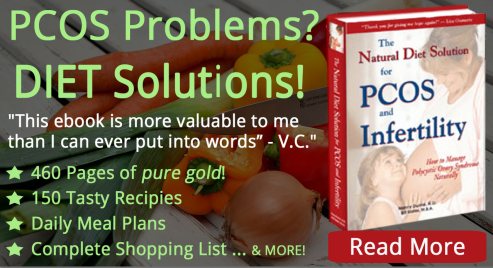 E-Books to Help You Manage PCOS