No Success yet but asking for PCOS advice
by rovielle
(philippines)
HI there my name's Rovielle. I was diagnosed with pcos when I was 24 and now I am 26 going to 27 on aug and married for 6 months with no child yet.

The first Ob i went to gave me duphaston for 6 months telling me that this will help me regulate my period coz I was having it 2 x a month..after 6 mos no success of regulating my period so she gave me pills for a change then I was bleeding for a week or more when I decided to have another second opinion after treating my bleeding and having some test to check about my thyroid and tvs my pcos was gone.

Now after 2 years again PCOS did return.

Now, my doctor prescribed me with clomid and I only took it for 1 cycle and no success after that I haven't had any pills or medications to treat my pcos and I wanted to badly have a baby, but due to my work schedule shifting from am, pm to graveyard its really hard for me to take medications cause I have been vomiting, nausea and breast tenderness.

But by july I will do my best to follow my doctors advised and take my medications that she will advise..coz this coming june I will be on the graveyard shift and it will be hard if I take clomid and having to be deprived of good sleep and stress fee.

I am happy to found this site.

I'm trying to get some information about vitex here in the philippines hope it can help me to…trying to be in diet though I'm not and will try to exercise.

I wish I could order your book as well. Thank you for reading my letter and I pray for everyone here to be cured and baby dust to all..God Bless.

###################

Ed. comment: Rovielle, even though you live in the Philippines, you can purchase the The Natural Diet Solution for PCOS and Infertility ebook, which you can download to your computer. It has the same contents as the paperback version.

Join in and write your own page! It's easy to do. How? Simply click here to return to PCOS Success Story.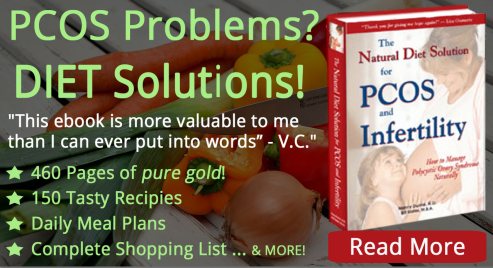 E-Books to Help You Manage PCOS