No succes yet but hopeful
by Betty C
(Port Richey, Fl)
No Success story here yet.... But I am hopeful! Reading all of your stories have helped and given me hope.

About 5 years ago i was told i had ovarian cyst and cyst in my fallopian tubes. i then had a surgery to remove these cyst, which in turn left scar tissue. 4 weeks after the surgery i was pregnant. The only problem was it was in my tube. i began to bleed and had another surgery to remove the baby and my right tube.

i have researched every possible thing that could help, other than another surgery. Here i thought the only other option was ivf, at least that is what i was told.

But i guess that there are other options, Thank you all every much for your stories.

###########

Editor's note: Your best option right now is to take serious steps to improve your overall health. You can minimize the risk of future ovarian cysts by improving the quality of your diet, getting more exercise, and finding ways to deal with chronic stress. We describe some strategies in our book:
www.ovarian-cysts-pcos.com/pcos-book-res.html

If you have to eventually resort to IVF, you will have a better chance at a successful pregnancy if you are healthy.



Join in and write your own page! It's easy to do. How? Simply click here to return to PCOS Success Story.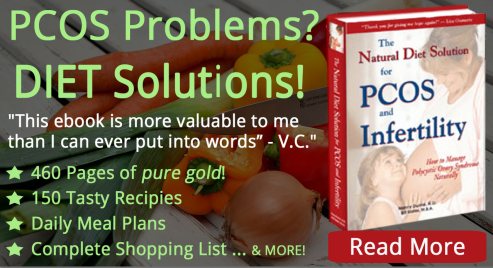 E-Books to Help You Manage PCOS