No Ovulation...on Metformin for 2 months
Hi, I was diagnosed with PCOS 4 months ago, when we decided to start a family after 2 years of marriage.

Before marriage I had the problem of irregular periods but that went away the day I started exercising and post marriage I was on a birth control pill and hence had no idea about PCOS.

After being told about PCOS by my doctor I have tried to change my diet and lifestyle as per the requirement.

I am on Metformin (1000mg) tablets for the last 2 months...have also lost 2 kgs of weight by walking and diet control (I am not exactly overweight but have a broad structure)...I got my ultrasound done this week - had also taken some more medicines for ovulation but there are no positive signs of ovulation.

My only concern is whether I will be able to conceive and how much time it will take (my doctor says it will take at least 6 months with 1500 mg Metformin daily and other medicines for support). Please suggest whether I am on the right track and how much time it will take for me to ovulate.

==============

Ed. comments: It appears you are on the right track. Every person is an individual. As your doctor says, it can take quite a while for your system to respond to outside intervention such as metformin, diet, exercise, supplements, etc.

If metformin does not give you the results you're looking for, you can very substantially increase your exercise. You're taking metformin because you have insulin resistance. Insulin resistance can also be reduced with proper (low glycemic load) diet and increased exercise.

In addition, there are nutritional supplements that can help with ovulation, such as vitex or d-pinitol.

As I said, the correct diet plays a vital role in controlling PCOS and in helping to restore a more normal cycle. A good place to get diet advice is from The Natural Diet Solution for PCOS and Infertility .



Join in and write your own page! It's easy to do. How? Simply click here to return to PCOS Success Story.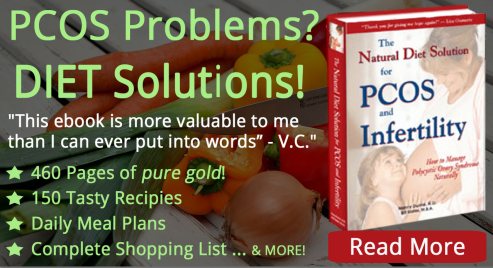 E-Books to Help You Manage PCOS