Never give up hope!
by Nicky
Hi Everybody! Hope you all doing well and all in control.

I just thought I'd share my story with you guys as it is always a great pleasure to read others success stories as it is indeed a motivation for me.

In December 2011 I found out that I was pregnant when going for my routine checkup with my gynecologist / obstetrician. Wow!

It was a huge surprise to me as I have not taken any medication at all!! Not even to treat my PCOS.

I tried everything that was natural because I never liked the idea of putting all those chemicals into my body.

My husband and I were hoping to fall pregnant for about over a year, we were not trying just hoping... you know it could happen, you never know... We kinda gave up or actually. I gave up and said it's fine, we will do the meds in six years time. But he kept on saying his prayers and asking God to bless us with a little one. Today I am 14 weeks along during my pregnancy and my baby is absolutely healthy.

My message to you is don't give up hope because it happens when you least expect it and when your body is ready. Remember to say you prayers as it does help.

All of the best to everybody trying!

Kind Regards
Nicky

~~~~~~~~~~

Editor's comments: Prayers and development of a positive attitude do more than uplift your spiritual and emotional/mental aspects. They also cause physical changes in your body such as changes in your nervous system and what hormones you produce. These changes help your body do what it is designed to do.

When you combine a spiritual life with a positive attitude and a healthy lifestyle, you're stacking the cards in your favor. A healthy lifestyle includes a diet of whole, unprocessed foods, lots of exercise, and time for relaxation and adequate sleep.

Join in and write your own page! It's easy to do. How? Simply click here to return to PCOS Success Story.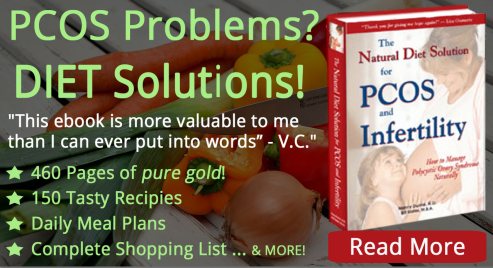 E-Books to Help You Manage PCOS