my pcos
by candi gordon
(colorado)
Hi my Name is Candi, when i was 11yrs old i started my periods and they were very, very heavy but regular. and i didn't think anything of it.

When i was 18yrs old i would have my periods for a couple months then none what so ever. so my doctor put me on birth control pills

when i was 19yrs they told me i had cysts i never new i did. old when i got married i stopped taking birth control pills and i saw another doctor and they put me on metformin. so i took those for awhile we and they put me back on birth control pills and at the time i did not want kids.

i have been off birth control pills for over a year and off my metformin for over a year too. went back too the doctors told my doctor i was ready to start having kids so i am i am 22 yrs old now on my way to the doctors tomorrow to see what i need to do to start having kids.

A week ago i started dieting and i have lost 20 lbs so far. Working out i have noticed spots and i haven't seen blood from my periods in over a year.

So i was very happy to see maybe when i start losing more weight i will maybe start my periods on my own again.

#############

Ed note: See our 10 Essential Tips for Improved Fertility and Controlling PCOS

For dietary guidelines, we recommend you read our PCOS diet book.

Join in and write your own page! It's easy to do. How? Simply click here to return to PCOS Success Story.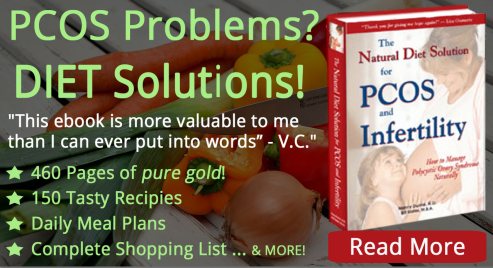 E-Books to Help You Manage PCOS