My PCOS journey
by Vanessa
(Santa Cruz, CA, USA)
I am also 20 years old and was diagnosed with PCOS when I was fifteen.

I was put on Birth Control and Metformin as well and was on that for several years.

Since my childhood I have been struggling with being overweight and having unwanted hair growth.

The horrible attributes of PCOS affected my self esteem as an adolescent and I went through years of depression and self despise.

I got a period once when I was eleven and then never was able to bleed on my own without the help of bc.

Well a lot has changed for me.

My long journey of PCOS has been changing because I realized that I didn't want to be on pharmaceuticals for the rest of my life.

During my senior year in high school I stopped taking them and began eating organic produce and taking natural supplements that my local health store recommended.

I never got a period and eventually stopped taking the pills, but about four months ago I research different natural treatment places where I live and found an acupuncturist who specializes in working with PCOS women.

My lifestyle and outlook on life has changed drastically since the beginning of my treatment.

I have been gluten and dairy free for four months and am taking herbal supplements and acupuncture to someday help me have a period.

I am charting my temperature and vaginal secretion to keep track of when my body would supposedly bleed.

Although I have not had a period yet, I am a lot more confident and happy.

I have lost about 15 pounds and I am the healthiest I have been.

My acupuncturist is supportive and listens, unlike many of my experiences with western medicine doctors who did not give me the time of day when I told them I was considering acupuncture.

I still struggle with PCOS on a day to day basis and it affects most aspects of my life.

It will be a life time journey, yet it feels so good to know that I am not alone and that other women have experience similar challenges.

Keep learning about your bodies and love yourself for who you are, and know that a healthy body with promote a healthy mind and spirit.

Join in and write your own page! It's easy to do. How? Simply click here to return to PCOS Success Story.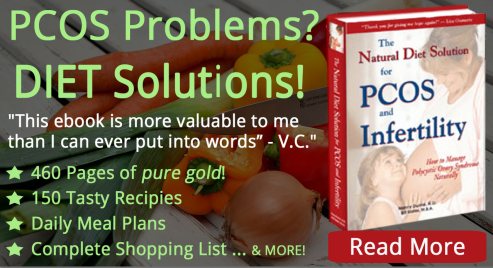 E-Books to Help You Manage PCOS