Miracle Baby - What I Did
by IN
(South Africa)
Hi, I was diagnosed with PCOS and Insulin resistance in 2005. I gained about 17kg in 6 months. I became depressed because of the snide remarks of the weight gain and was constantly being insulted.

As a result I became depressed and started eating more and I tried every pill to lose weight. Glucophage never helped either.

I went to the gym and worked hard to lose weight for my wedding which took place in 2009. I had lost about 12kg and wasn't at my goal weight but I was happy with my achievement.

When my husband and I decided to try for a baby, we went to a fertility specialist because I knew I would have an issue falling pregnant. If only I was prepared to hear what the doctors had found. I not only had PCOS and insulin resistance but I had endometriosis and an inactive thyroid. On top of this, my husband had insulin resistance and low sperm count.

We were both devastated.

They gave us a number of drugs to take which included injections. I had to undergo two operations - ovarian drilling and a laproscopy.

My husband and I made a conscious decision to start eating right, and exercising on a daily basis. We took up running and ran about 3km a day while still taking our Glucophage. By this stage we stopped all other medication and relied on just eating right and exercising. We also had a lot of faith that God will bless us with a baby.

About a month or so after we started our "new lifestyle" and while running on the treadmill at gym I had a sharp pain across my tummy. I went to the bathroom and noticed that I was spotting. My period was about 2 weeks early.

But the next day there was no period. I did an online search and found out that it could be the implantation phase of pregnancy. I didn't want to get my hopes up and so did nothing but wait for my period.

My period never came and so I decided to take a pregnancy test...in fact I took 3. All came back positive and confirmed I was more than 4+ weeks along. My husband and I were in total disbelief. It was a miracle that we fell pregnant.

I am now almost 23 weeks and expecting a baby girl. God has blessed us with this little angel and I just wanted to share my story with those that are struggling to believe that it will happen.

Change your lifestyle and your diet, and put your trust in God. He will never fail you.

Join in and write your own page! It's easy to do. How? Simply click here to return to PCOS Success Story.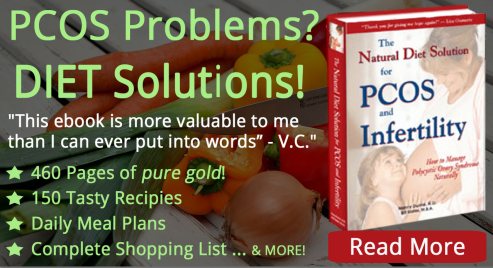 E-Books to Help You Manage PCOS