Miracle Baby Benjamin
by Bonnie
(Canton, OH)
The year before my husband and I were married I was informed that I had PCOS and the doctor (or quack) from the clinic told me I was too fat and that I would never have children.

Needless to say I didn't take no for an answer and my husband said he would marry me not matter what.

I saw many doctors. After being referred to an fertility specialist and discovering I had a septated uterus, I had surgery to correct it. And then many cycles of HGH and being inseminated with my husband's sperm, none of which worked.

I got pregnant on my own, then miscarried.

After that my husband and I took a break from trying and just traveled and spent time being a couple and resigned ourselves to the fact we may never have children and I was looking into adoption. Well, wouldn't ya know it, I got pregnant and it went wonderfully.

I was due on our 10 year anniversary but went overdue and now we have a beautiful healthy boy. He will be 3 years old in October and I never thought it would have happened.

Ladies, don't let anyone or anything stand in your way. God gave me this child and when it's your turn you will feel just as blessed as my husband and I do.

~~~~~~~~~~~~~~~~~~

Editor's comments: Circumstances in life change, so yes, you never really know when you might become pregnant. Every woman can change at least some of the circumstances in her life to improve fertility odds, such as implementing good health practices. If you improve your environment, you improve your health and ability to have children. You also reduce your risk of miscarriage, which is a problem that PCOS women have.

For example, living a life that includes more daily physical activity will improve your self-esteem, relieve stress, improve your hormone balance and help you lose weight.

If you also improve the quality of the food you eat, your body will definitely respond. A good way to do this is to prepare your own meals from "whole", unprocessed foods.

Another excellent way to improve your health circumstances is to create stress-free time in your busy life. You need time to rest, relax and renew yourself. Most of us are overscheduled and struggle the meet the innumerable demands from our relationship to our environment. You can get yourself into a state of chronic stress without even being aware of it. When this happens, your body and hormones are thrown out of balance. Removal of chronic stress can make a big difference in your fertility and in getting relief from PCOS.
Join in and write your own page! It's easy to do. How? Simply click here to return to PCOS Success Story.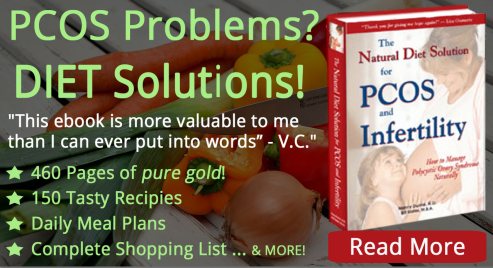 E-Books to Help You Manage PCOS