Manorah Hospital - PCOS
by Victoria
(Kansas City MO)
Hi everyone and my age is 22 years old. My name is Victoria and my mom had me go to her doctor. His name is Dr. Cohen. He looked everything over and said I should see an endocrinologist. I took so many blood tests that I am not afraid of needles anymore.

It was 6 months when I found out that I had PCOS.

It took one day for the realization to kick in.

I am living at home with my Mom and Step Dad. They are very good supporters for me.

I am taking Yasmin and Spironolactone 100 MG. The endocrinologist's name is Dr. Sokol he is very good and funny which helps at times.

I am wanting to have kids in the future. Right now I am in school and looking for a job as a CNA. The college I attend is Penn Valley Community College. So that's my story so far.

####################

Ed. comments: In addition to the pharmaceuticals you're taking, I think you may be pleasantly surprised with the results you get by consuming a healthier diet and getting plenty of exercise.

Recommended reading on a diet for PCOS and also exercise suggestions, is The Natural Diet Solution for PCOS and Infertility . If your Mom is fixing your meals, you could give the book to her to read.

Join in and write your own page! It's easy to do. How? Simply click here to return to PCOS Success Story.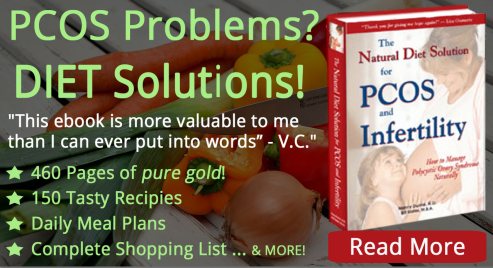 E-Books to Help You Manage PCOS