Making Progress with Natural PCOS Treatment
by Kanchan
(India)
I have PCOD from last 3 years.

I had gained weight. I had hair on body everywhere.

My periods were irregular; I had also insulin.

But from 8 months my periods are regular I had lost 10 kgs

My insulin is normal my face is clear now from acne and my hair growth is also low now on my body

I followed a low GI diet, as many women with PCOS are insulin resistant.

The diet in a nutshell involved: no sugar, no artificial additives or refined carbohydrates and making sure that each meal including a good quality protein 25%, unrefined carbohydrates 25% and veggies 50%.

Saturated fats were to be limited but essential fatty acids (EFAs) eaten as often as possible.

Fruit was to be eaten in moderation - I avoided the fruit very high in sugar (e.g. melons, mangos) and always ate fruit with protein to balance the insulin effect.

I was very careful in thinking about the effect of what I was eating was doing to my insulin levels and also in controlling calories.

We are now trying to conceive from 8 months. Hope I will conceive earlier.

Regards
Kanchan
India

~~~~~~~~~~

Editor's comments: Good work, Kanchan! That sounds like a very good diet.

One of the problems for people living in Asia is that they consume way too much white rice, which causes blood sugar and insulin problems. Eliminating white rice is a crucial first step toward controlling polycystic ovary syndrome and improving fertility.

Also, don't forget to add exercise. Exercise + diet is proven to be effective in reducing symptoms and will get you into better condition to become pregnant.
Join in and write your own page! It's easy to do. How? Simply click here to return to PCOS Success Story.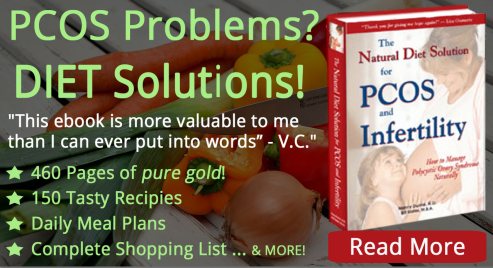 E-Books to Help You Manage PCOS