Journey to a Healthier Life
by Debbie
Hello everyone. I am 31 years old and was diagnosed with PCOS and insulin resistance 3 weeks ago. I have been married for 6 years and no pregnancy yet.

I have struggled with all the symptoms--weight gain, depression, absent menstruals, decreased sexual drive, frontal hair thinning, acanthosis (brown patches around neck and armpits) and some acne.

At first I was extremely concerned and completely freaked out.

But after researching online and reading all the wonderful stories, I now have hope and feel confident I will beat this thing.

I have been living an unhealthy life for the past 6 years, so it all makes sense. I have learned more about how the body works in the past 3 days than in the last 31 years.

My endocrinologist recommended a healthy diet and daily exercise. No prescription drugs yet.

He believes by shedding the 50 pounds of excess weight I can reverse PCOS.

Just 3 days ago I began my journey to a healthier life. Thank you for this site and for all your stories. They are inspirational and give hope to so many women like me who thought they were alone.

I am also getting the book today!

Join in and write your own page! It's easy to do. How? Simply click here to return to PCOS Success Story.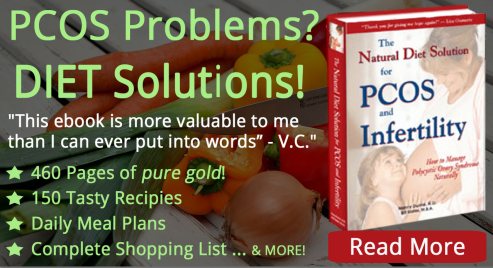 E-Books to Help You Manage PCOS