I was recently told that I have PCOS....
by Kayleigh
(Surprise, AZ)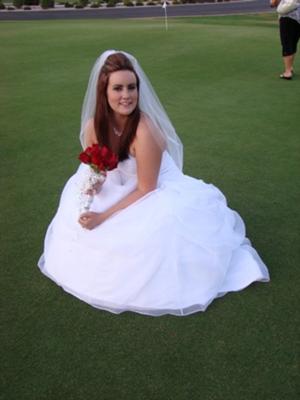 My name is Kayleigh, I am 23 years old and a newlywed...

I was recently diagnosed with PCOS about 3 months ago and put on 1000 milligrams of Metformin per day.

I also just recently started my first CNA job after becoming Certified in May of this year!

One would think that everything is looking up right, but how wrong they would be! :(

Since being diagnosed I have realized that my dreams of being a mother anytime soon are probably not going to come true.

And sadly the medication that I am on has made me feel very sick, so much to the point where it's affecting my job!

I am constantly nauseous, tired and just all around sad.

I have also been experiencing severe lower back pain, to the point where my legs ache.

I was wondering if anybody else here had experienced the same and if all of my side-affects are normal??

Any help would be awesome because it hard to explain to my work why I can't lift things and do my job when I don't entirely understand what is going on with my body either!! :(

~~~~~~~~~~~~~~~~~~~~~~~~~~

Editor's comments: Kayleigh, PCOS is a baffling and to some a frightening disorder. There is no cause for alarm. What you need to do is learn how to keep PCOS under control and get your hormones into a more normal proportion to each other so that you can start a family when you want to.

I think you will have to look beyond pharmaceuticals to get your problems solved.

A very common side effect of metformin is exactly the symptoms you've described. You may need to reduce your dosage, or avoid it completely. We suggest you contact your doctor immediately and report your symptoms. He or she will either reduce the dosage or stop the metformin altogether.

There is absolutely no need for you to continue suffering like this.

The only other commonly prescribed pharmaceutical option is birth control pills, which do absolutely nothing in terms of curing polycystic ovary syndrome and also obviously prevent you from having a baby so long as you are using them.

The good news about metformin is that studies have shown than women with polycystic ovary syndrome can get the same results as metformin by improving their diet and getting a lot more exercise. These methods extensively reviewed in this PCOS book.

Selected nutritional supplements such as vitex or d-pinitol can be quite helpful in helping you to normalize your hormones.

If you improve your diet as described in the PCOS diet book, and if you increase your exercise level, and take nutritional supplements, you may be pleasantly surprised with the results.

If nothing else, this book will give you a good understanding of what PCOS is and what you can do about it.