I Exercise a lot but have belly fat and gaining weight
by Claire
I am 18 I have always been very active, cross country, swimming in high school, now just starting as a freshman in college. I still work out 6 to 7 days a week, great eating habits.

I don't overeat at all, but still keep gaining weight especially around my belly.

Is there anything else I can do, I am very frustrated looking at all the skinny girls out there that eat what they want.

PLEASE HELP

Claire Robillard

~~~~~~~~~~~~~~~~~~

Editor's comments:

Hi Claire,

Gemma answered a similar question here about losing belly fat.

It's quite unusual for someone to work out 6-7 days a week and still gain belly fat.

Fat buildup around the midsection is often associated with a condition called insulin resistance. You don't mention whether you have PCOS. Women with PCOS commonly have insulin resistance.

Another possible contributor to belly fat is chronic stress.

These are hormonal and metabolic problems which can be partially controlled with proper diet, exercise (which you are already doing), lifestyle modification, and possibly some selected nutritional supplements.

You say you have great eating habits. We're not sure what that means. For belly fat, we suggest a diet of whole foods that emphasizes vegetables and protein, and reducing consumption of refined carbohydrates such as breads, baked potatoes, white rice, etc. We assume you are already staying completely away from all junky "convenience" foods.



Join in and write your own page! It's easy to do. How? Simply click here to return to Exercise Q&A.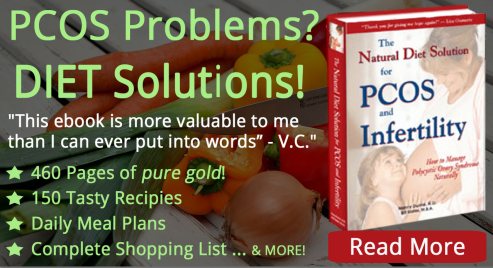 E-Books to Help You Manage PCOS