I am dealing with this PCOS
by Preeti
(Connecticut)
Hi all,

I was detected with PCOS 4 months back when I missed 1 menstrual cycle and went to a gyno. It was then that I was detected with hypothyroidism and PCOS.

I was scared, but although my gyno did not commit anything, but her attitude seemed that it was not that bad.

She put me up on medication for 6 months. That time I was married only for two months.

Recently I learnt that this can also cause infertility and is not curable.

I got too tensed. Also that I had started gaining weight and found it so difficult to loose in spite of regular exercise and controlled diet.

But thanks to this blog, I found hope, and now I'll try to increase my exercise and lessen any kind of stress.

#######################

Editor's comments:

These are general comments to anyone, not necessarily directed at Preeti.

First, congrats on finding renewed hope and resolving to exercise more and reduce stress. Those steps are huge!

We have to be careful when we're told PCOS is "incurable", as if there is nothing we can do about it.

That is simply not true. What IS true is that you will always have a genetic predisposition toward polycystic ovary syndrome symptoms. You will have a higher risk of developing chronic health problems such as heart disease or diabetes.

What is NOT true is that there is nothing you can do about it. Actually, there is plenty you can do about it. It may be hard work, but there is plenty anyone can do.

For example:
* Eat less junk food and refined carbs, as we say in our diet book.
* Get much more exercise.
* Reduce chronic stress.
* Work on developing a positive attitude.
* Take nutritional supplements that help you correct PCOS problems.
* Form a support group.

Thousands of women with polycystic ovarian syndrome have been able to become pregnant, reduce symptoms such as overweight, acne, and hair problems by taking the actions I've just outlined. They are also developing a better self image and reducing their risk of developing diabetes or cardiovascular disease.

Join in and write your own page! It's easy to do. How? Simply click here to return to PCOS Success Story.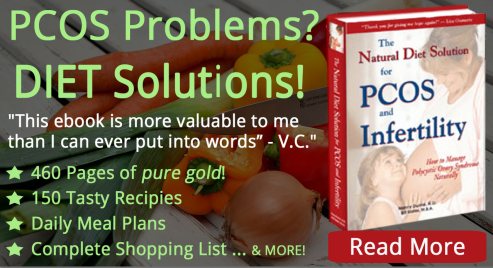 E-Books to Help You Manage PCOS