Hypothyroid problems intwined with pcos
by Deborah
(Sarasota, florida)
Since I was eighteen I have been taking Synthroid. I am now 35yrs and was placed on metformin. It has been like someone wiped out the fog from the windshield of my car window.

In addition I feel authentically a sense of happiness. Not in the take 3 cups of coffee way. Happiness as with the excitement of living. I did not know you could feel like that with out the coffee and everyday.

Well my thyroid medication started giving headaches that I would wake up with and go to bed with I was tired. My Dr. said let's experiment and stop thyroid med for about 7 days, while still on metformin 3 times a day.

I could not be happier, I even started painting my toe nails again. So with my persistence my Dr. let me stay off for three wks.

I went in per Dr. orders to get my thyroid checked. Dr. said that I need to get back on Synthroid again 100mcg.

I took it around 11am and by 5pm my neck under my chin started to hurt like never before. It got so bad that my right ear started to hurt as well.

I bought your book The Natural Diet Solution for PCOS and INFERTILITY. I have two beautiful children not problem there.

MY serious problem is to find a Doctor in Sarasota, Brandenton fl area that is familiar with PCOS and endocrinologist and be willing to work with me and my body. Please, Please let me know where can I fined such Dr.

~~~~~~~~~~~~~~~~~~~~~~~~

Editor's comments: Ask your doctor why you are taking Synthroid. Do you have a thyroid gland that is incapable of producing thyroid hormones? For example, do you have Hashimoto's disease, an autoimmune disease where your immune system is attacking and damaging your thyroid gland? Or what? Even though it's difficult, try to understand the reason why you are taking any medication.

Also keep a journal of your Synthroid dosage levels and your symptoms. Maybe you need to carefully adjust the dosage level to find out what dose works best for you.

Also ask your doctor about any alternatives to Synthroid.

Metformin is for a condition called "insulin resistance". How do you know that you have this condition? Once again, it's a good idea to keep asking your doctor questions until you understand the necessity for taking metformin. Bear in mind that metformin has its own set of side effects.

Offhand, I would suspect your lift in energy and excitement about life has more to do with your Synthroid dosage level than metformin.

Besides taking drugs, you can also improve your health and reduce PCOS-related problems by improving the quality of your diet and increasing your exercise. A healthier lifestyle will have a huge impact on your health problems.

We don't know of a PCOS specialist in your area. However, for a fee, the Health Resource will find PCOS specialists in your area.
Join in and write your own page! It's easy to do. How? Simply click here to return to PCOS Success Story.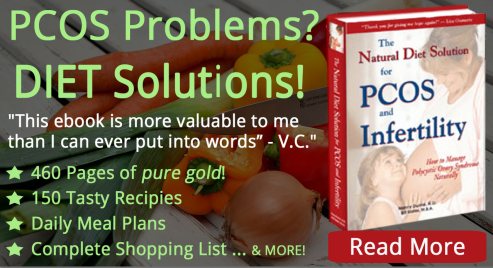 E-Books to Help You Manage PCOS