How Long for Regular Cycles?

(Boston, MA)
I read Dr. Dunne's book "The Natural Diet Solution for PCOS and Infertility" after being diagnosed with PCOS 1 month ago. I've been on the diet ever since.

I am not overweight, but I've lost 5 pounds, my skin has cleared up a little, and my digestion and sleep are improved.

I am excited by these results.

My question is, how long will it take for my cycles to become normal? Currently my cycles are 38-42 days, and since my husband and I are TTC, I would really like for them to be normal.

I don't want to be impatient but we are trying to decide if I should go on medication for regular cycles. I don't want to go on meds if the diet will normalize my cycles.

Thank you!

~~~~~~~~~~~~~~~~~~~~~~~~

Editor's comments:

It could easily take several months -- or much longer. It's very hard to say. There are many factors involved, as we say in our book. An improved diet is a major influence on your entire hormonal system. But you may need to go beyond diet.

For example, if you have a progesterone insufficiency, you may benefit from taking supplemental vitex.

Another example is inositol, which has been shown in studies to encourage ovulation. You can get regular inositol or a special form of inositol called d-pinitol.

You might try supplements for a while before resorting to pharmaceuticals.

Can supplements force you into a "monthly" cycle? No.

Birth control pills can force a regular monthly "bleed"…but there is no guarantee of a regular cycle after you stop them.





Join in and write your own page! It's easy to do. How? Simply click here to return to Reader Feedback.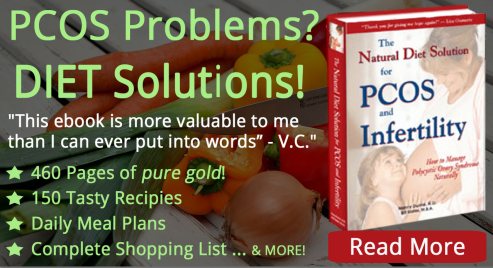 E-Books to Help You Manage PCOS