Hope from your PCOS Stories
by Abbey
(USA)
I'm very thankful for this site.

I have reason to believe that one day I'll be able to conceive a baby even if having polycystic ovarian syndrome aka PCOS.

I've been recently diagnosed beginning of last year & must I say, felt very distraught. Only to find out not only will I have high risk of heart disease, high blood and etc. but harder for me to get pregnant.

I also just got married last March & my husband & I were planning to get pregnant right after that, unfortunately it'll take a lot more patience.

From reading some of your stories, gives me hope that I will conceive one day.

My OB/GYN was the one who diagnosed me w/ this disease and referred me to and endo (fertility specialist). He has encouraged me to go on a diet & exercise.

With the coaching of my supportive husband & my determination, I have lost 20 lbs.

I feel great.

Not only that, the specialist also put me on metformin & soon will start clomid.

Pls. everyone who has the same problem as I do, wish me luck & I will do the same for you all!! And don't give up hope....!

~~~~~~~~~~~~~~~~~~~~

Editor's comments: Good work with losing the 20 lbs.! Weight loss definitely improves your odds for conceiving.

Here's one little secret to long term weight loss: consume more home-made soups and salads.

And don't forget to exercise and be physically active daily.

A healthy diet + regular exercise is as effective as taking metformin, according to medical studies.

In addition, selected nutritional supplements such as vitex or d-pinitol can be useful in helping you to normalize your hormones and improve fertility.






Join in and write your own page! It's easy to do. How? Simply click here to return to PCOS Success Story.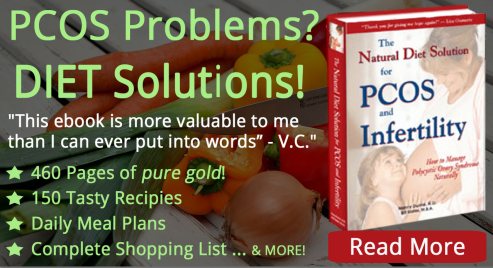 E-Books to Help You Manage PCOS