hello to all you girls out there, don't give up! - Vitex & Cinnamon Worked for Me
by April
(oregon)
Hello to all you girls out there!!!!!!!

I was diagnosed with this stupid thing called PCOS about 3 years ago. Wanted to have a baby sooooooooo bad I would do anything.

Doctor put me on metformin; had one period after not having one in 10 years. Next month was pregnant

Best thing I ever did. So to all of you out there who are looking to get pregnant, don't give up because if there's a will there's a way and it will happen. It might take a lot of work but it will be worth it in the end. I have been taking vitex and cinnamon for my mid-section because it likes to creep up on me from time to time.

I was at 220 lbs and since the cinnamon I'm down to 195 just after one month so I believe that these herb meds do work.

I really never believed in them until I wanted to have another child and my insurance is so expensive I didn't wanna go through all the doctor visits again. So I know what's wrong now so I decided what the heck, I'll give it a try. What can it hurt? So after one month of taking the vitex and flow is here. I haven't had one in the past 3 years.

I didn't know how serious PCOS was until I got on here and started reading about it because when I was diagnosed with it all I heard is you can have a baby and that was my goal.

So don't give up girls, there's hope. I hope I encouraged at least one person and made u smile. It will all work out; everything always does.

Try the vitex and cinnamon I'm telling you it really works.....

~~~~~~~~~~~~~~~~~~~~~~~~~~~~~~

Editor's note: The supplements April is referring to can found be in this online store.


Join in and write your own page! It's easy to do. How? Simply click here to return to PCOS Success Story.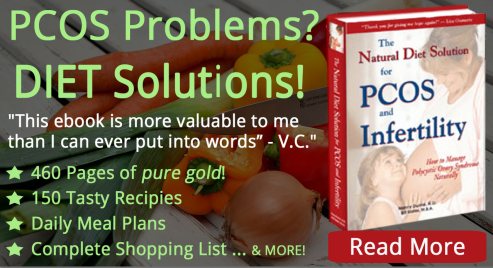 E-Books to Help You Manage PCOS