Have PCOS, My Life Is Changing
by Ashley Guerrero
(San Antonio, Tx, USA)


I am an Active Duty Soldier and being diagnosed with PCOS in April 2011 has really changed my chances of continuing in the Army as a career.

I have gained over 40 lbs over the past two years. I had gained 60lbs with daughter and lost it ALL in 2007.

I started growing hair on my neck and chin and had painful ingrowns just as a man might.

Luckily laser hair removal has really helped! I have not had a menstrual cycle since 2010.

My doctor on base started me on metformin 1500mg per day and I have to take a break every now and then due to the GI side effects. No other options have been offered to me as of yet. They just keep saying to continue with metformin.

I really honestly think that the Merina IUD I had placed after my daughter's birth has tricked my body into not ovulating and started this chain reaction to the diagnosis of PCOS.

Before all this my husband and I got pregnant on the pill TWICE. Suffered a miscarriage first then 2 months later was pregnant with my daughter, Vivian. So at one point it was safe to say I was very fertile.

So this is not a success story yet, but I have high hopes after reading all your stories.

I will be getting my IUD removed very soon.

I have recently started "spotting" and having some menstrual related symptoms, which I have not really missed. I will continue the metformin and thanks to you all, I will start my new vitamin regimen and continue to keep working out the way I do already.

Soon a new baby can be added to our family.

~~~~~~~~~~

Editor's comments: Hi Ashley, I think you can both add to your family, and maintain your career.

Removal of the IUD sounds like a good decision.

The purpose of metformin is to reduce the severity of a problem called insulin resistance.

Besides metformin, here are some other ways to reduce insulin resistance:

1) Get a vitamin D test from your doctor. If they refuse, go to a civilian doctor. If your vitamin D is on the low side, take supplemental vitamin D to get it back up into the mid-range of normal.

2) Change your diet. Be selective about the foods you eat. Changing the types of carbs you eat, the beverages you drink, and the fats/oils you consume, you can do wonders for both insulin resistance and fat weight loss. This PCOS diet ebook tells you what to do. You don't have to follow it verbatim, but you can follow along with much of it.

3) A recent medical study has shown that the nutritional supplement called "NAC" is as effective as metformin is. And it has NO side effects. You might try taking it.

4) I see you're already exercising. Can you increase the frequency and intensity of your exercise? Doing so will reduce insulin resistance in your muscle and thus enable you to burn off fat more easily. Please keep in mind that muscle activity is how you lose accumulated fat weight. There is no other way to burn it off.

There's much more you could do. But this should be enough to get you started.

Keep up the good work!

Good luck, with both the family and career!



Join in and write your own page! It's easy to do. How? Simply click here to return to PCOS Success Story.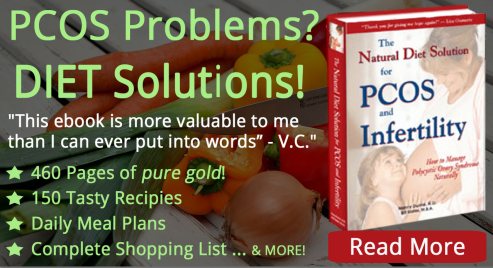 E-Books to Help You Manage PCOS