Gluten Free Helped My Bad Acne
I've been battling PCOS for 3 years and have all symptoms from acne, hair loss and absence of periods.

I've been on gluten free diet and eat natural, hormone free meats and dairy, and have noticed significant improvements to my acne.

I've also had a boost in energy levels.

I really feel that eliminating gluten from my diet has made significant improvements and even eliminated some of my symptoms and am getting periods!

After 3 years of frustration, something has helped!

~~~~~~~~~~~~~~~~~~~~~~

Editor's comments: Congratulations on discovering that removing gluten from your diet is relieving your acne. Gluten can cause a variety of health problems in many people. Most of these problems are not obviously related to gluten but once gluten is removed, any number of symptoms may diminish.

When people remove gluten grains from their diet, they often use other highly refined non-gluten products such as non-gluten bread. This is not a good idea for those who have PCOS. Chronic consumption of any refined carbohydrate, whether it contains gluten or not, can worsen PCOS symptoms.

Vegetables and nuts and seeds are substitutes for eating bread and other baked goods.

More information about acne is available on our PCOS and Acne web page.

Join in and write your own page! It's easy to do. How? Simply click here to return to PCOS Success Story.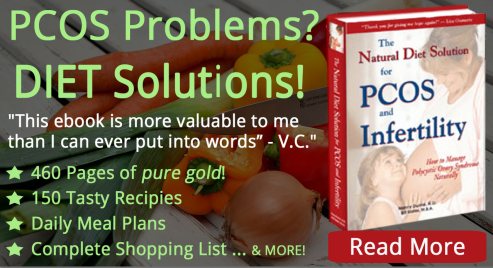 E-Books to Help You Manage PCOS