Frustrated and Relieved after Reading PCOS Book
by Vicki
(Alaska)
I am 37 years old. I have one daughter who will be 20 in June. I was diagnosed one year ago with PCOS when my new husband and I decided to have a baby. We are still trying.

I gave up on the medications because they made me feel sick all the time.

I ordered the book yesterday and downloaded it. Along with reading other women's stories from this site I have learned so much in just a few days.

I learned that I have had so many of the PCOS symptoms for so many years and none of my doctors seemed to make the connections.

I was so frustrated and relieved after reading just the first few chapters in the book.

It made the science of my body more personal and I for the first time in many years feel like I have hope and control over my own body.

I hope to have a success story soon but in the meantime I will eat better to feel better. Thanks so much for this site and the support it offers.

#################

Editor's comments:

The book Vicki is referring to is The Natural Diet Solution for PCOS and Infertility.

We can't emphasize enough how important it is for each woman to understand what causes polycystic ovary syndrome. If you understand the CAUSES, you can remove them. If you take a more simplistic, short sighted approach of taking pills such as birth control pills or metformin, you may end up being disappointed.

Why?

Because pharmaceuticals only "manage" your symptoms. They do not remove the root causes of the disorder.

The five "pillars" of comprehensive, effective long-term management of PCOS are:

1) Healthy, balanced diet.
2) Regular exercise.
3) Stress reduction.
4) Selected nutritional supplements.
5) Health care professionals who understand PCOS and will take the time to develop a personalized treatment plan.

These topics are discussed in the book.

This web page list a number of nutritional supplements that have been shown to be helpful for reducing symptoms related to polycystic ovary syndrome.








Join in and write your own page! It's easy to do. How? Simply click here to return to PCOS Success Story.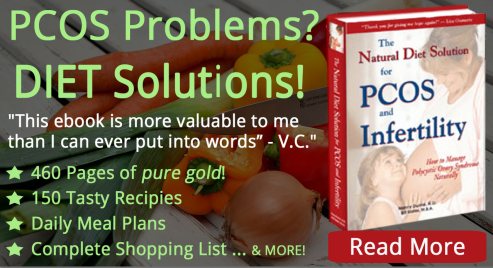 E-Books to Help You Manage PCOS