Finally, a PCOS diagnosis - Will try Clomid + Metformin
by kerry
(ireland)
My journey to conceive began 18 years ago, having suffered two early miscarriages then not being able to conceive at all. Numerous visits to my gp were no good. "You're young, keep trying" was all he said.

At the end of my tether I ran into an old friend I couldn't believe my eyes she was expecting.

How did that happen? I said giving her combination of pcos and endo. She told me about her new gynae. I had to get his no. Well the relief to be finally taken seriously by a doctor was amazing, and when he did diagnose me with pcos I cried with joy as I finally had an answer.

The plan I am about to undertake is Clomid and metformin for six months I pray to god we will get the child we dream about. We always say good things come to those who wait. We would love to hear other people's stories about this treatment and if anybody has any health tips on conceiving. Kerry

===========================

Editor's comments: Clomid and metformin may work for you. If they don't, consider improving your diet and increasing your exercise.

The right diet for PCOS plus exercise can be as effective as metformin, but without the side effects.

Join in and write your own page! It's easy to do. How? Simply click here to return to PCOS Success Story.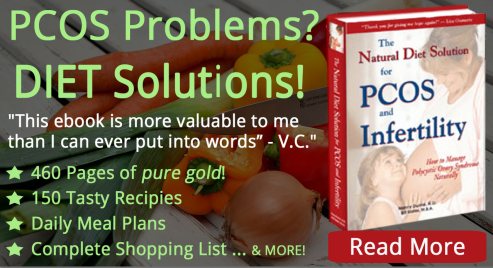 E-Books to Help You Manage PCOS